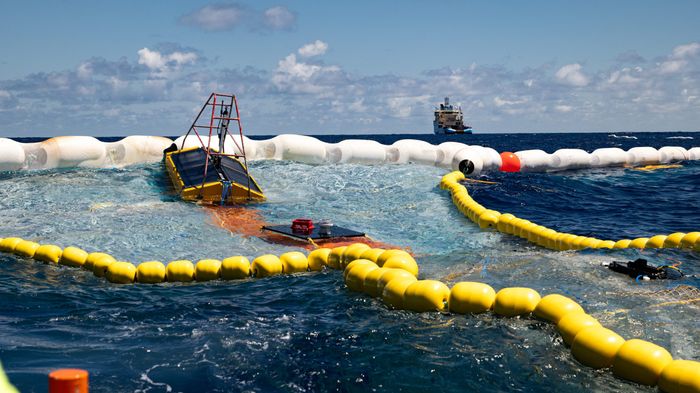 Monitoring data confirms low adverse impact of System 002 on marine life over initial 12 trips.

Current prevention and mitigation measures deemed successful, with additional improvements planned for System 03.

Research continuing to optimize preventative measures and gather data on plastic pollution and operational environment to further understand and protect ecosystem of North Pacific gyre.
The Ocean Cleanup's mission is to rid the oceans of plastic. We do this with a dual strategy: a growing network of Interceptors currently capturing plastic in rivers worldwide, alongside our ocean cleaning technology which removes legacy plastic afloat on the high seas.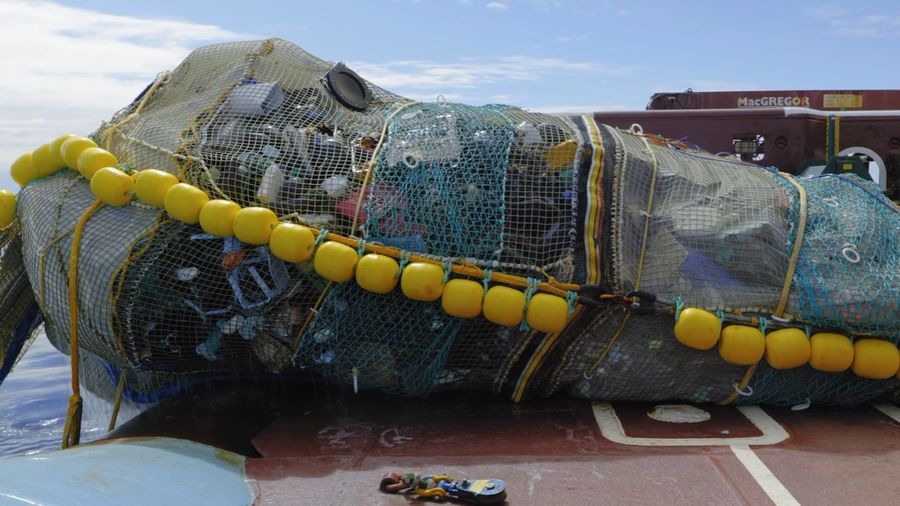 The Ocean Cleanup is committed to scientifically evaluating potential adverse operational effects against the positive impact of our cleanup for life in our oceans. As part of our commitment to transparency and openness in our operations, in this update we present data on our impact on marine life over the first 12 trips of System 002, the most recent iteration of our ocean cleaning technology.
System 002 was first deployed to the North Pacific in July 2021, with trip 12 concluding in December 2022. Here we elaborate on our system's encounters with protected marine species and provide details of our primary incidental catch, i.e. organisms that were directly captured by the operation. Studies are ongoing to learn more about secondary incidental capture – organisms such as barnacles that have attached themselves to the plastic we catch, or that died prior to encountering our system.
We also detail the prevention and mitigation measures we incorporate into our ocean operations, and share how the data gathered during cleanup operations feeds our research and contributes to improved knowledge of the high seas ecosystem, allowing us to further refine our preventative and mitigation measures – helping us maximize our net benefit as we scale up.
THE GREAT PACIFIC GARBAGE PATCH: MARINE LIFE AND PLASTIC
The Great Pacific Garbage Patch (GPGP), located between California and Hawaii, is far from nutrient-rich coastal waters, meaning life here is less common than would be found closer to shore. However, there is still a plethora of species inhabiting, feeding or migrating in the area around the GPGP, including varieties of fish, sharks, mollusks, sea turtles, birds and mammals.
Our mission is intended to benefit the marine environment and the wildlife that inhabits it, and the protection of the ocean ecosystem is the number one priority for our crew at every stage in our operations – from design to deployment.
The Ocean Cleanup combines continuous data gathering in the field (for example our Ground Truth Expedition in July 2022), specialist advice from in-house and external marine experts and scientists (including biologists specializing in the study of species encountered in the GPGP), and independent reports and assessments of our environmental impact to ensure that our cleanup activities provide maximum net benefit to this environment and its wildlife.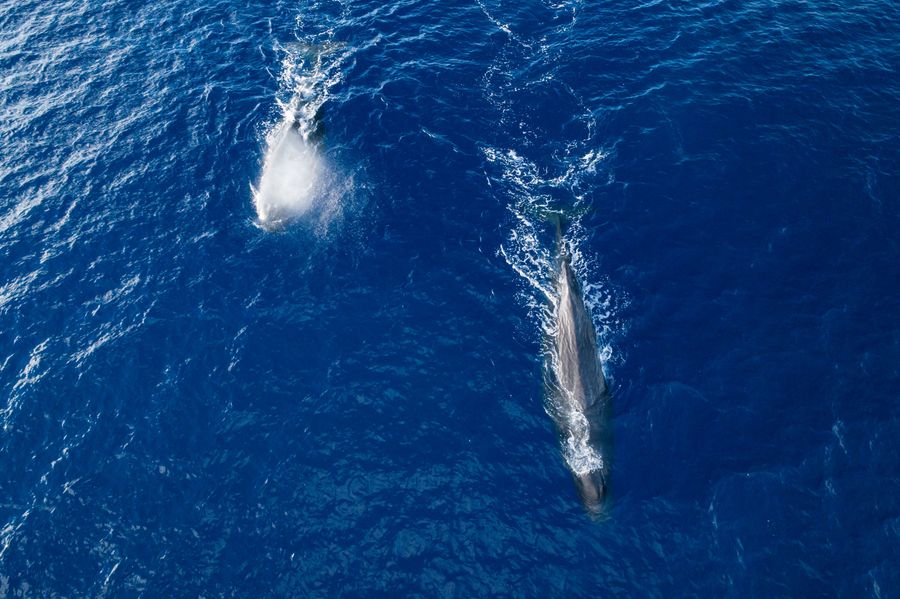 FIRST THINGS FIRST: ENVIRONMENTAL IMPACT ASSESSMENT
In order to ensure we are operating with the necessary precaution and responsibility, from our first deployment (and in advance of every technology iteration since) we have completed an Environmental Impact Assessment (EIA) in collaboration with CSA Ocean Sciences. The EIA helps us identify potential impacts, and defines a series of mitigation measures to minimize any risks ahead of our deployment.
CSA Ocean Sciences also help us with our Environmental Management Plan (EMP) which ensures that our environmental impact is monitored and mitigated throughout the entirety of our operations and is continuously revised according to our experience in the field.
Both our EIA and EMP are reviewed periodically and are updated for each major iteration of our technology, with data and learnings from previous editions contributing to a better standard of protection in future plans.
These actions form part of our voluntary commitment to submit ourselves to the rule of law on the high seas. We have signed a legally binding Covenant with the state of the Netherlands, providing a framework for our operations under the highest regulatory standards.
IN THE FIELD: PREVENTION AND MITIGATION MEASURES
Our efforts are aimed at limiting interactions between our system and marine life, and mitigating any negative impact of the interactions that do occur, particularly those involving protected species.
For simplicity, here we divide System 002's prevention and mitigation measures into three categories: measures built into the design of the system itself, measures based on how the system is operated by the crew, and measures based around monitoring.
Design measures
Large mesh sizes are incorporated into the system, allowing small marine animals such as plankton to pass through.
Escape aids (i.e., openings on the underside of the mesh) are located along the retention zone to enable marine animals to safely swim out of the system.
Access to air for air-breathing animals is ensured through design features which raise the retention zone above the surface of the water in dedicated places.
Our crew always has the option of triggering an emergency release to free any animal which might encounter difficulty in the retention zone. While this results in the loss of any plastic which has been captured, this option is kept available for any serious encounters.
Green LED lights and light-colored meshing to increase visual detectability of the system and escape aids.
Acoustic deterrents have also been installed to safely deter high-frequency hearing marine animals (such as dolphins and whales) from approaching the system.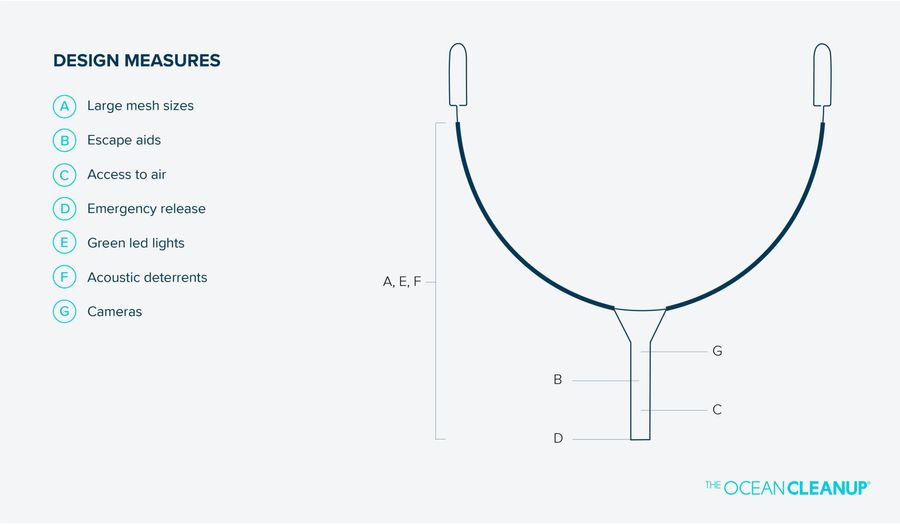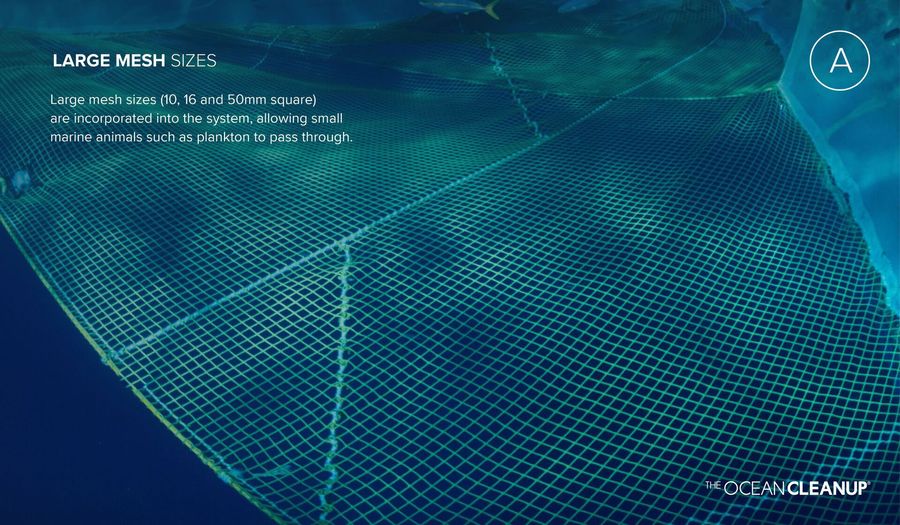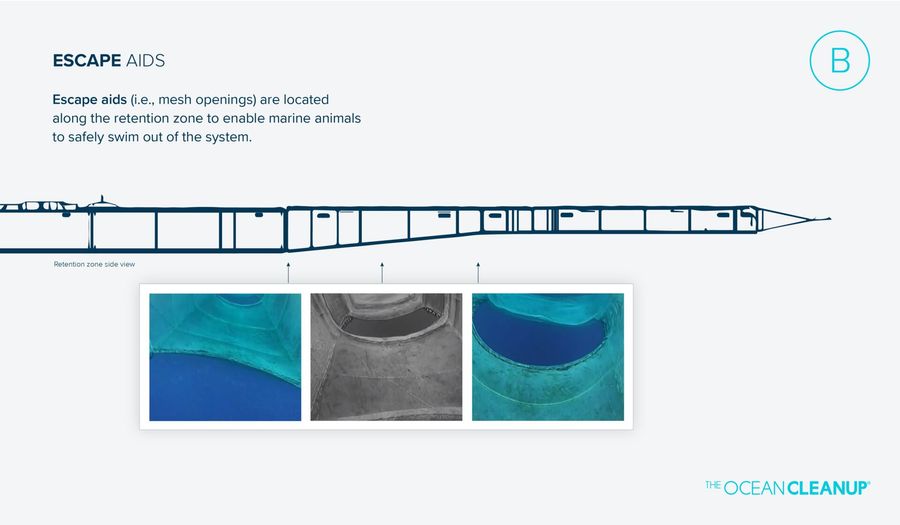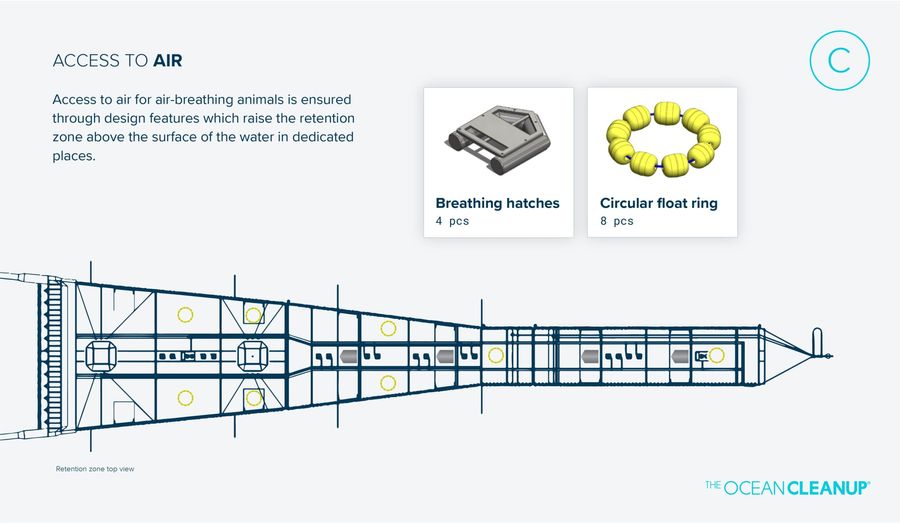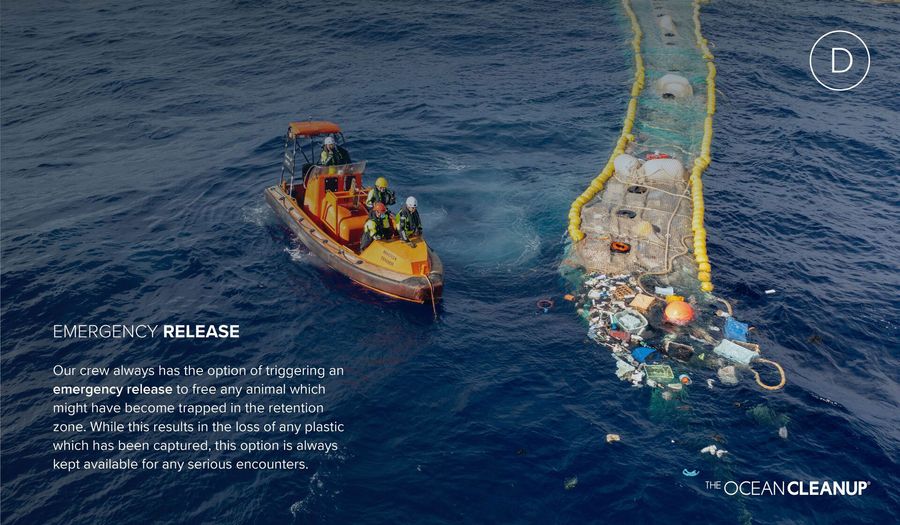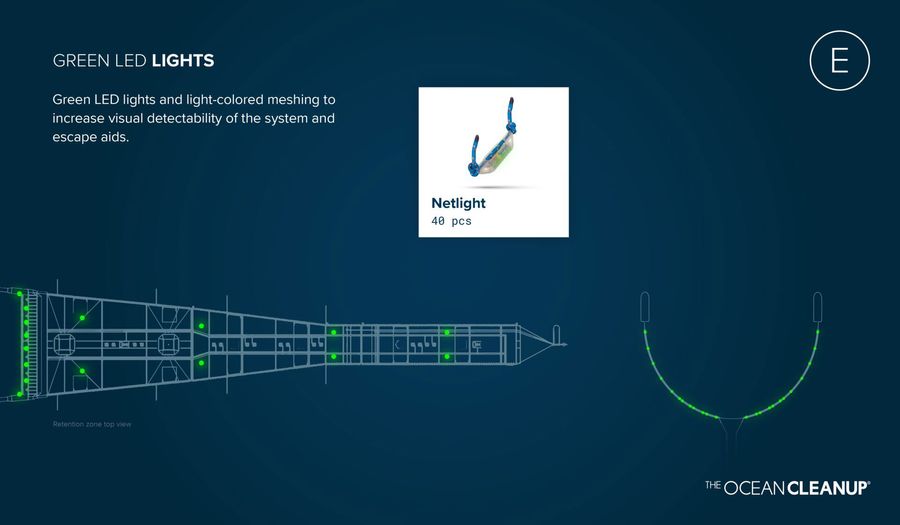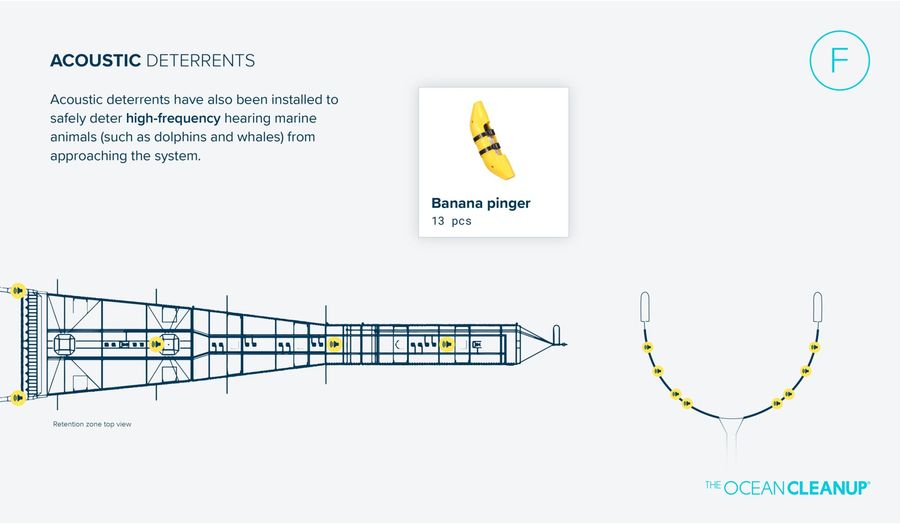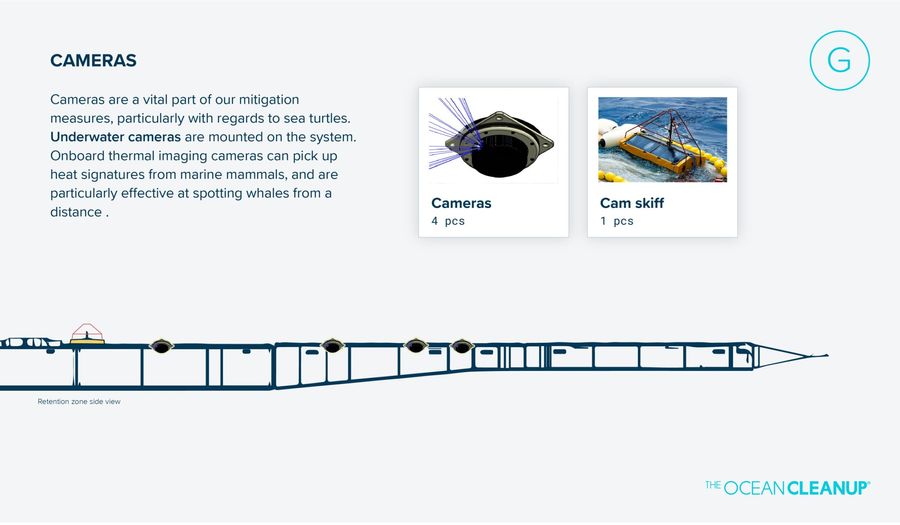 Operational measures
The slow movement of our system (0.5 to a maximum of 2.5 knots while on cleaning operations – slower than a casual walking speed) allows most healthy marine animals to easily swim away.
Unnecessary acoustic energy (what in regular terms would be called 'noise pollution') and night-time lighting are minimized to lessen any disturbance to wildlife.
Minimal Environmental Impact Operation (MEIO) mode is a specific operational mode which can be activated if a protected species is observed in the vicinity of the system. This mode further reduces the possibility of environmental impact by employing a maximum speed of approximately 0.5 knots. The MEIO mode is also activated in case of equipment malfunction (e.g., if issues arise with the monitoring cameras or emergency release mechanism), and during low visibility conditions.
Emergency plastic extractions are always retained as an option if a protected species is observed in difficulty within the retention zone.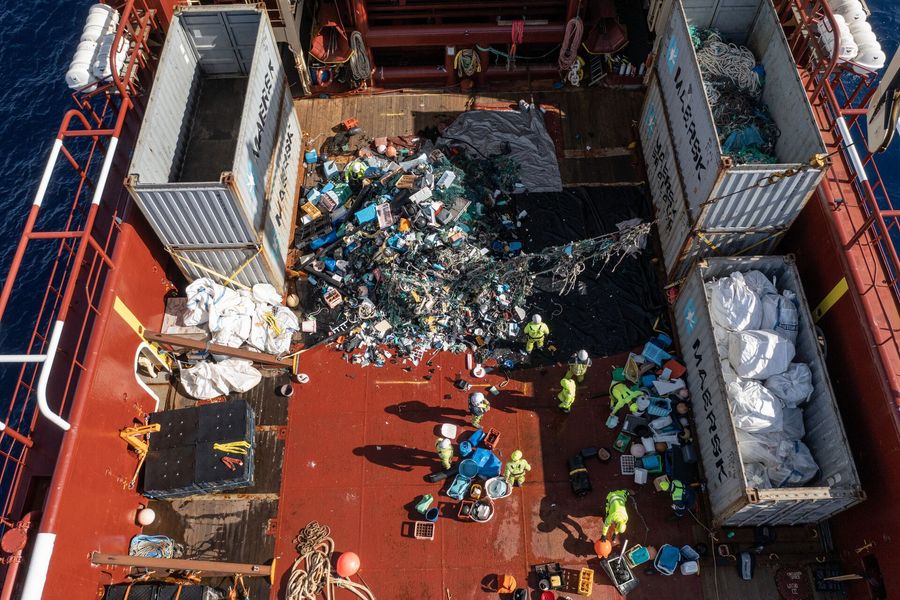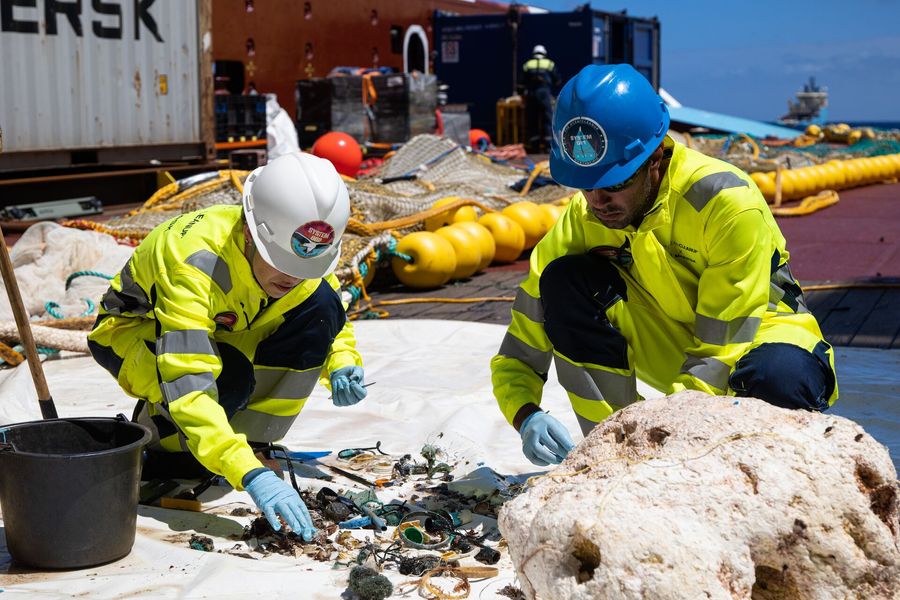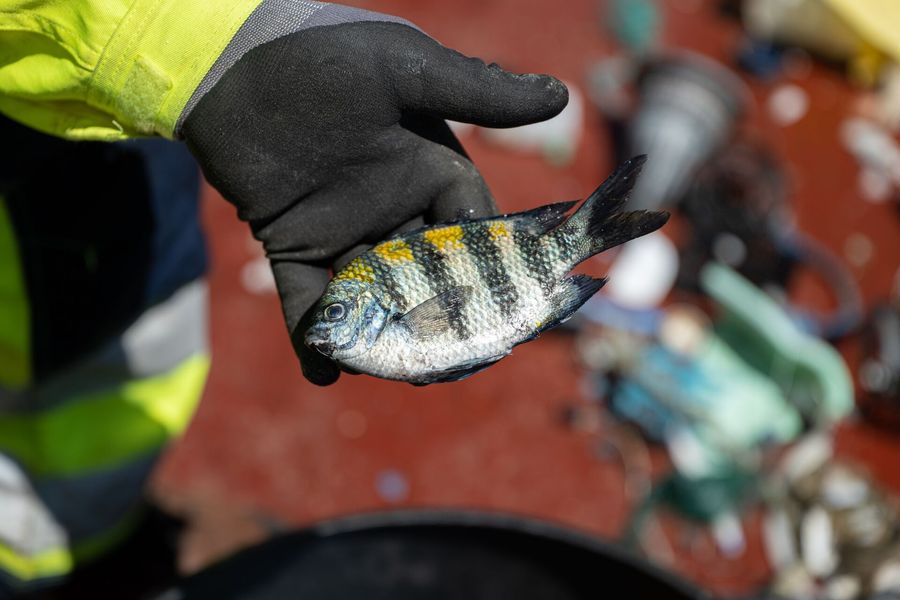 Monitoring measures
Protected Species Observers (PSOs) are onboard vessels for continuous monitoring on every trip. Although our crew is trained in marine mammal, bird and turtle observations, independent PSOs (covering operations 24 hours a day) provide an additional level of precaution and accountability for our operations.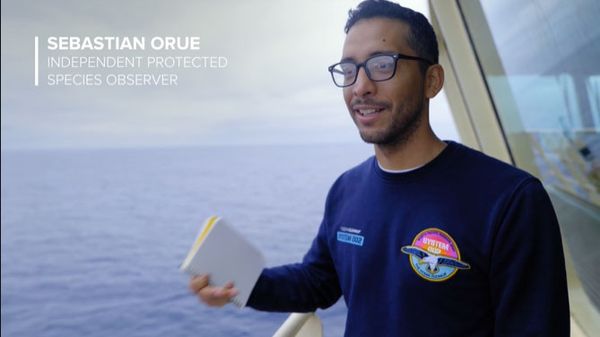 Cameras are a vital part of our mitigation measures, particularly with regards to sea turtles. Underwater cameras are mounted on the system and supplement the work of the PSOs by monitoring the entrance to the retention zone. Onboard thermal imaging cameras can pick up heat signatures from marine mammals, and are particularly effective at spotting whales from a distance.
Drones allow us to routinely perform inspections of the system and the surrounding area to check for any damage to the system or confirm the presence of protected species. If a protected species is observed inside the system, or is in distress outside our system but close to the operation area (e.g., entangled in ghost nets), our crew can attempt a safe rescue in accordance with our EMP.
While some of these measures, such as minimizing noise pollution, are standard practice at sea, many others (i.e., drone monitoring flights, protected species "escape hatches", underwater cameras, manual rescue operations) have been specially introduced for our operations, and have been refined using data gathered in the field.
We are pleased to report that mitigation measures have been observed functioning as intended and appear to be working effectively.
ENCOUNTERS WITH MARINE LIFE: PRIMARY INCIDENTAL CATCH
Over System 002's first 12 trips to the GPGP, the total cumulative catch amounted to 193,832 kg of plastic (excluding negligible amounts of non-plastic debris) and 667 kg of primary incidental catch (also known as bycatch), consisting mostly of fish, sharks (of which around 99% were abundant pygmy sharks), mollusks and sea turtles (discussed below).
Overall, our catch therefore consisted of 99.7% of plastic, with the later trips averaging closer to 99.9% plastic – demonstrating that continuous data-driven improvement in our mitigation measures is having a positive impact and indicating that our measures to minimize any adverse impact and maximize our net benefit are functioning well.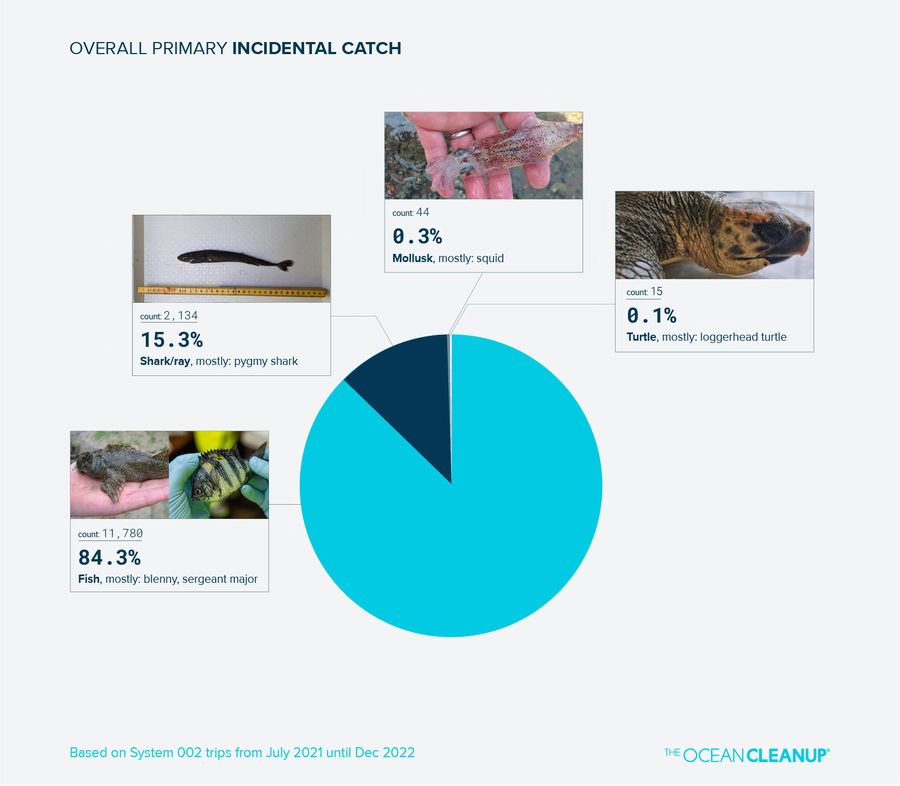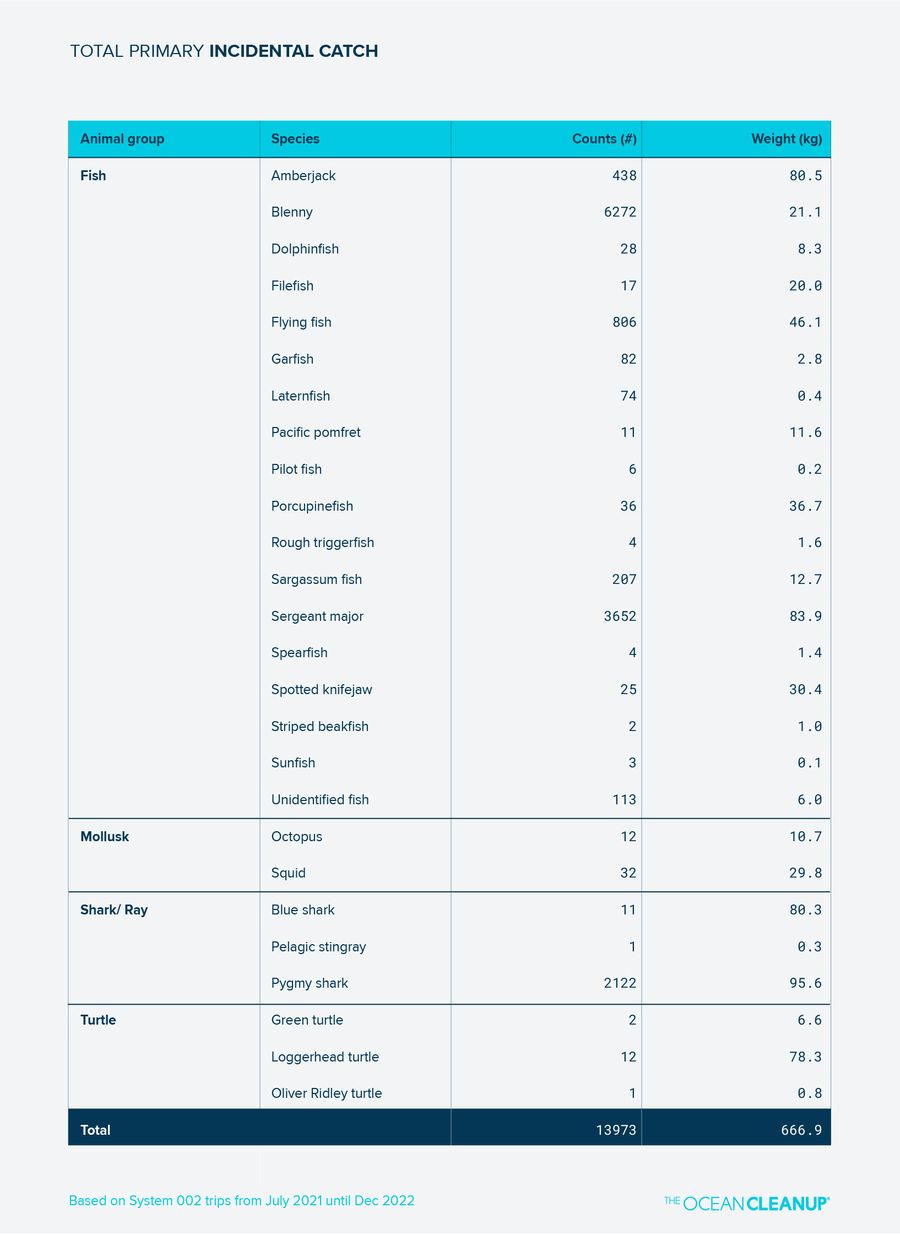 Fish made up 84.3% of our total incidental catch by count of individual animals, and 54.7% of our incidental catch by weight. Species typically known to associate with flotsam or drifting algae, such as blennies (Beloniformes) and sergeant majors (Abudefduf sp.) made up the majority of incidental catch for fish, together accounting for 84% of all fish collected by System 002.
While these particular fish were unfortunately captured, others were observed on System 002's monitoring cameras freely swimming in and out of the system, indicating that fish interacting with the system can generally exit easily.
Species of shark made up 15.3% of our incidental catch by individual count, and 26.4% by weight; 99% of these individual sharks were pygmy sharks (Euprotomicrus bispinatus) – an abundant species in this area and around the world, with an IUCN conservation status of 'least concern'. Mollusks and turtles accounted for the remaining 0.4% of the incidental catch by individual organism count, and 18.9% by weight.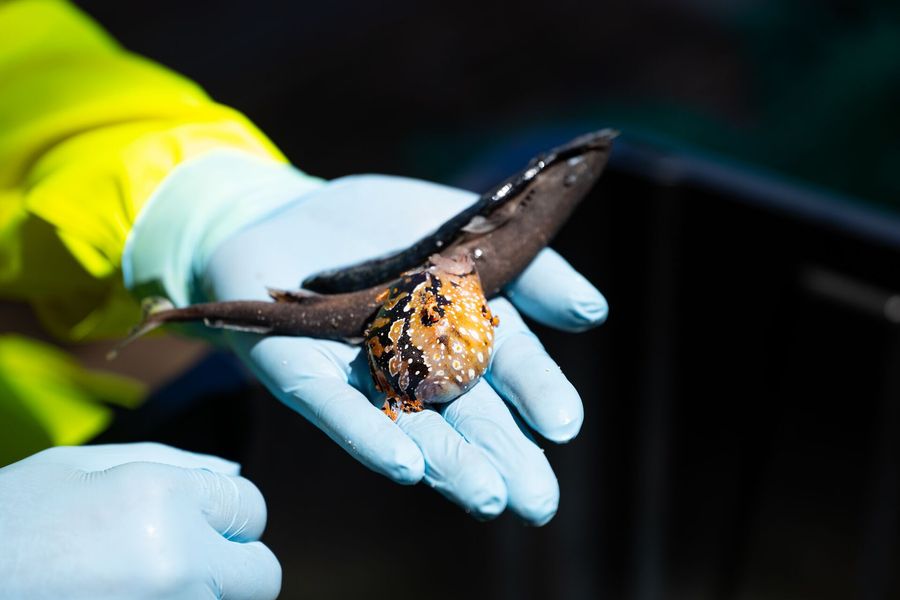 PROTECTED SPECIES OBSERVATIONS
Crew operating System 002 have observed a wide variety of marine life while transiting and operating in the Pacific Ocean. Humpback, killer, and blue whales have all been observed, alongside a variety of dolphins, porpoises, sea lions, birds and many others.
A total of 1,582 animals designated as protected species were sighted by the onboard Protected Species Observers, with 94% of these sightings occurring during transit to and from the GPGP or while the vessels were on dynamic positioning. The remaining 6% of sightings (corresponding to 90 individuals) occurred during towing with System 002.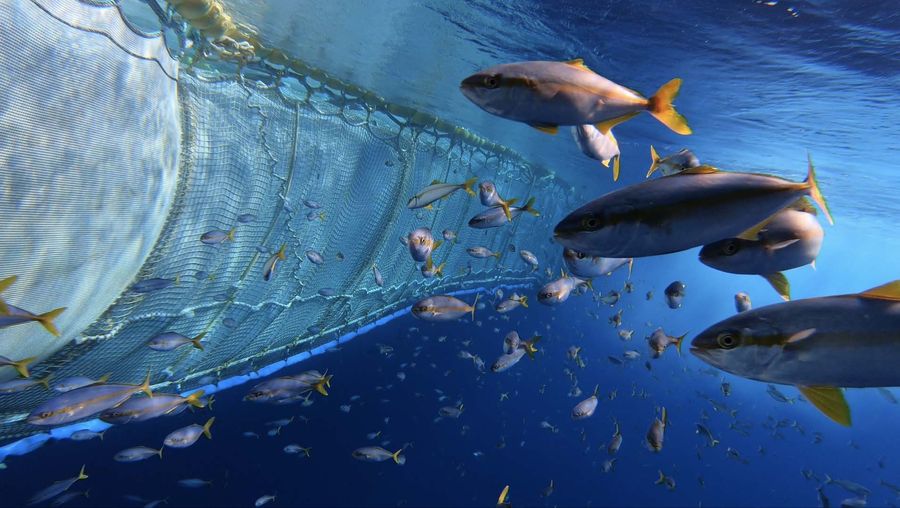 In the vast majority of cases, these protected species had no interaction with our system, and were unimpacted by our operations. However, despite our mitigation efforts, some adverse encounters with sea turtles were observed. While these encounters were rare, they provide us with valuable data to guide our ongoing mitigation efforts, where sea turtles are a key focus.
Across our 12 trips, we had 47 encounters with sea turtles. On 9 occasions a turtle was sighted outside the system and either moved away by itself, or was avoided by changing the course of the vessels. On one occasion, our team encountered a turtle outside our system that was entangled in fishing nets, and intervened to remove the nets and cut the animal loose.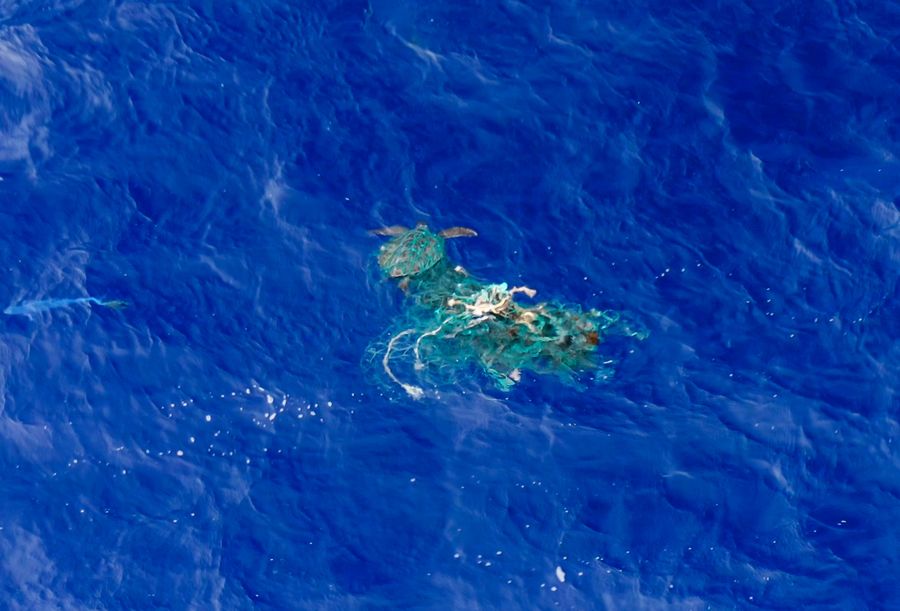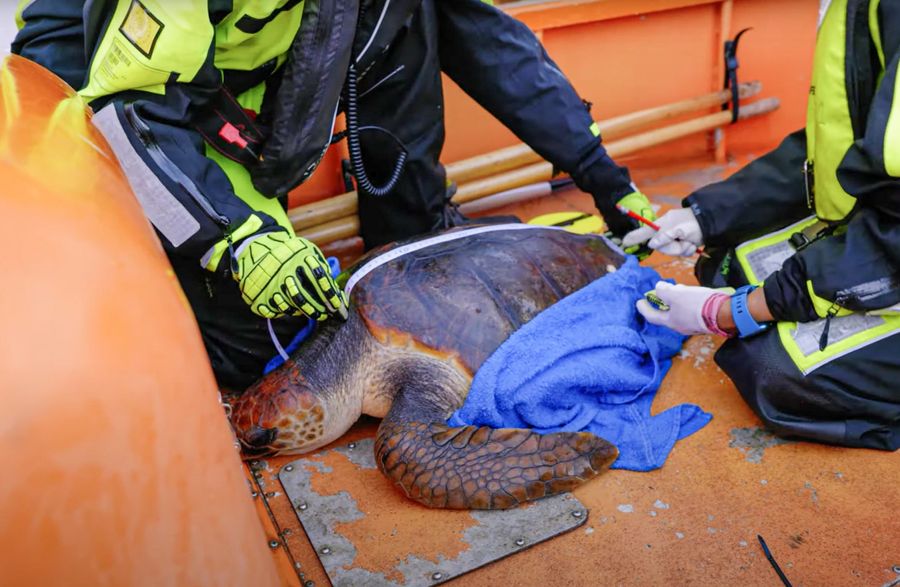 37 turtles were observed inside System 002's retention zone during these 12 trips – 21 loggerhead turtles, 8 green turtles, 1 olive ridley turtle and 7 unidentified turtles. Of these 37, 11 successfully exited the system on their own through the exit routes, while 6 were rescued by the crew following their sighting. 5 turtles were found in healthy condition in our catch after extraction and were safely returned to the water.
The carcasses of 5 turtles that had died before entering the system were also recovered; from the advanced state of decomposition it was clear that these carcasses had been drifting in the water for some time, and so they were categorized among our secondary, rather than primary, incidental catch.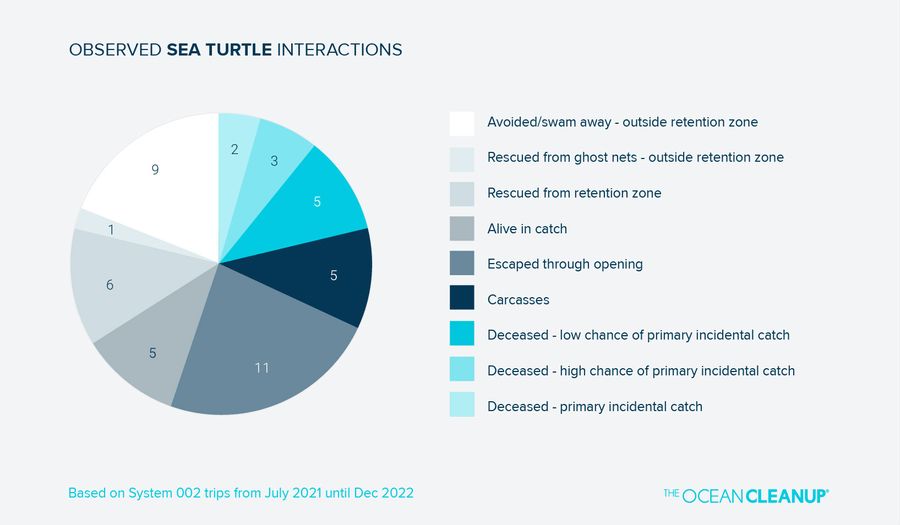 Of the 10 turtles found dead (excluding the aforementioned 5 carcasses) among our incidental catch, 5 were considered likely to have already been dead before they entered the system, while 5 were either confirmed, or considered likely, to have died inside the system.
These latter 5 turtles were noticeably smaller than others which had entered the system and survived, and had poor-to-moderate body health scores, indicating they were likely already sick or weak when they encountered the system. Their size and health may therefore have impacted their ability to escape, as others were able to.
Necropsies were performed by the onboard PSOs (following the expert input of Jeffrey Seminoff, head of the Marine Turtle Ecology & Assessment Program at the National Oceanic and Atmospheric Administration, NOAA) on 11 of these turtles to examine the impact of plastic pollution on these animals; 100% of turtles examined were found to have ingested plastics, with one turtle's stomach containing over 60 separate plastic pieces.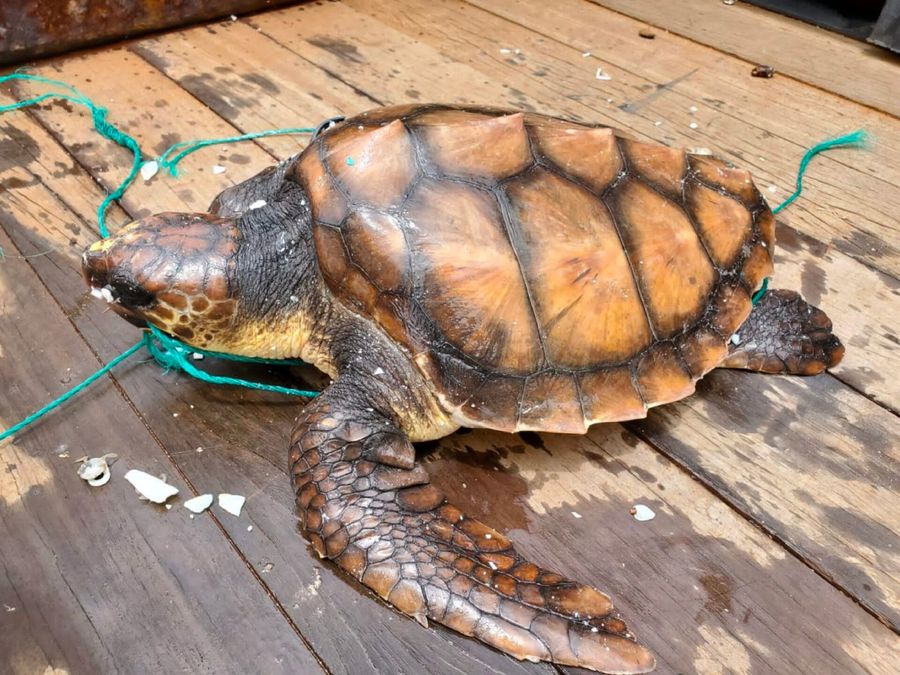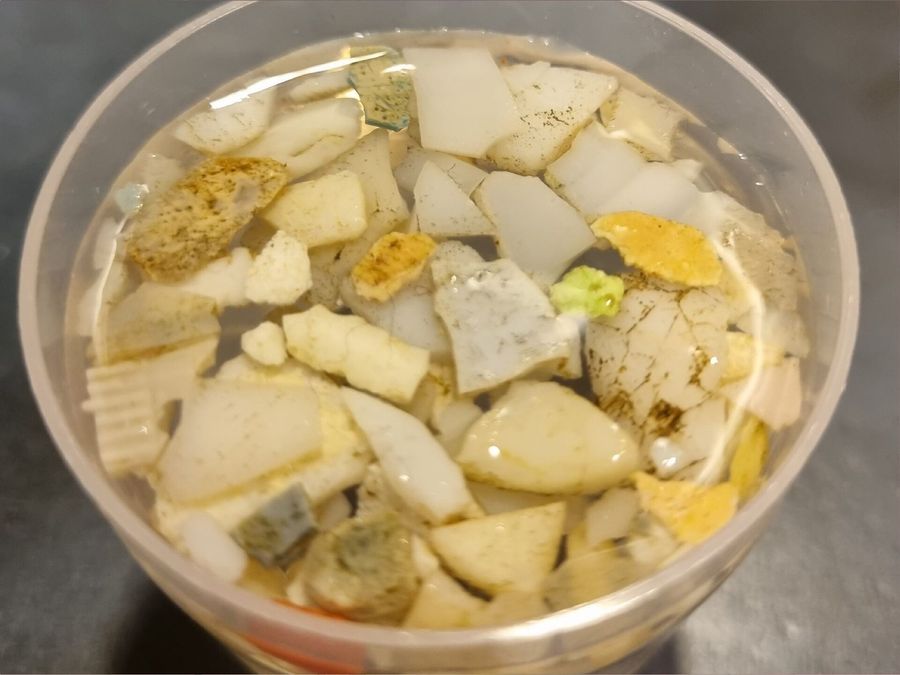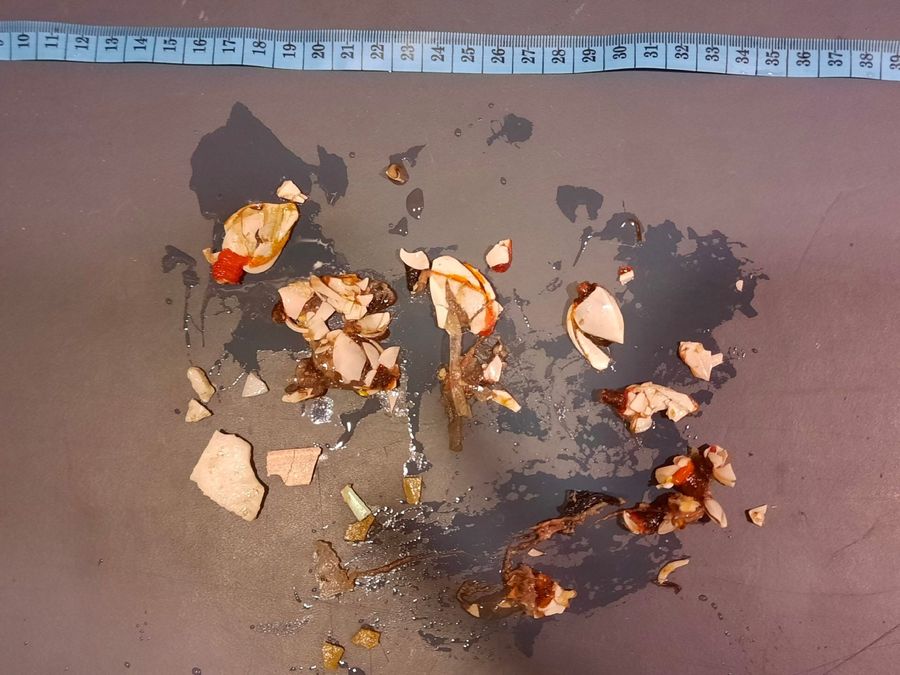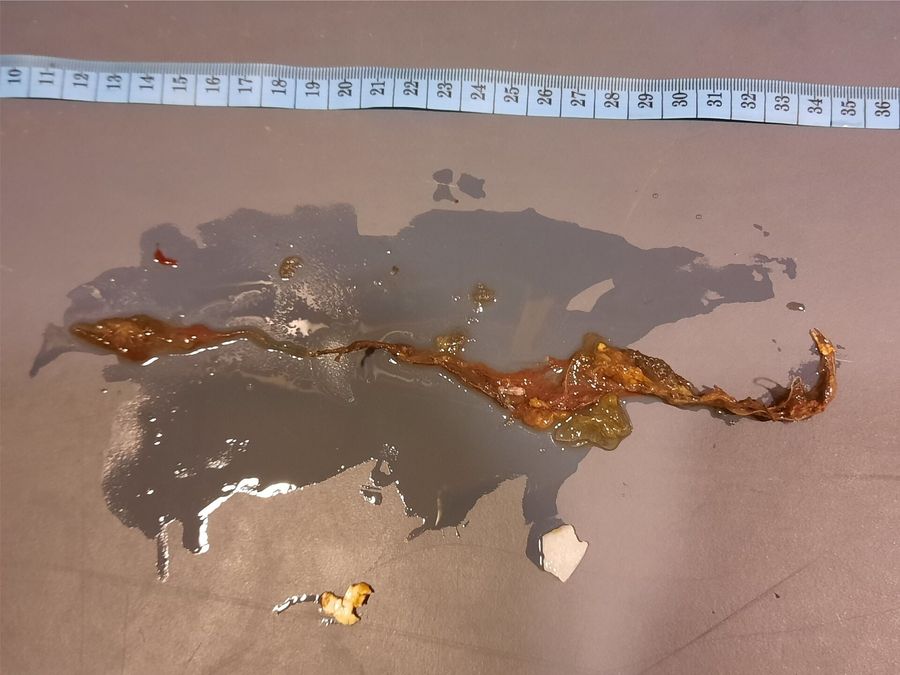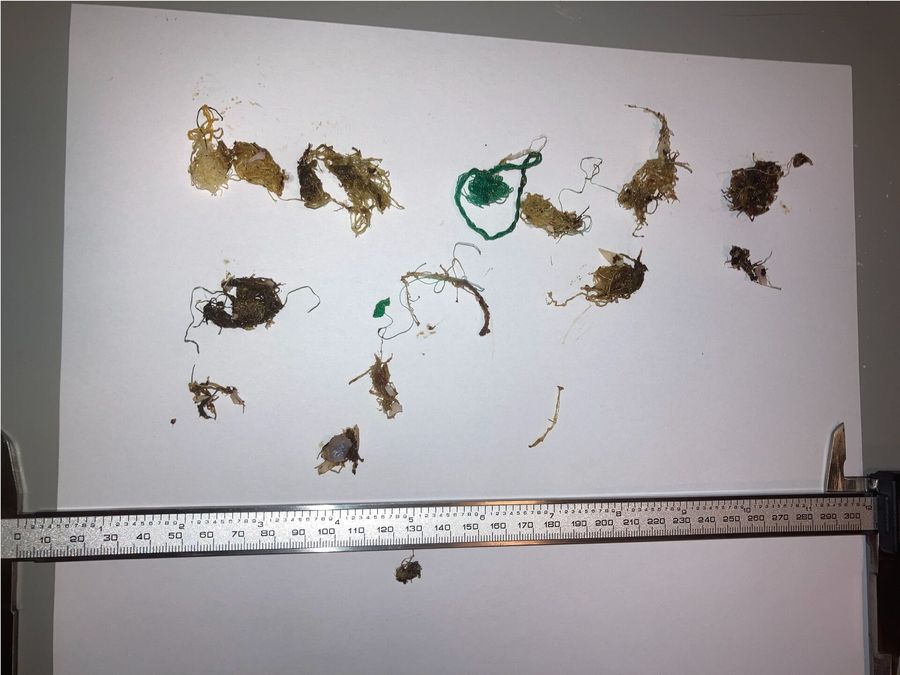 Overall 87% (i.e., 32 out of 37 live turtles) of our encounters with sea turtles passed without any serious disruption to the animal. The universal presence of plastic in the digestive tracts of deceased turtles provides evidence that plastic accumulating in the GPGP negatively impacts these animals, and of the increasing urgency of cleaning up the garbage patches. While our mitigation measures for turtles and other animals are largely effective, we want to improve them further to ensure the greatest protection and maximum net benefit to these animals, and we see this as our main opportunity to do so.
We are currently researching further mitigation improvements to maximize the net benefit to these animals as we transition to System 03. New measures including improved exit routes, additional breathing areas and underwater cameras, AI-assisted detection of turtles entering the retention zone, an active turtle exclusion mechanism, and shark decoys to deter turtles from approaching are all under consideration. In addition, we are conducting active research on how plastic pollution is harming marine life in the GPGP, and sea turtles in particular. Knowing the long-term impacts of the pervasive plastic pollution is key for the net benefit assessment of plastic mitigation measures.
MONITORING NEUSTON
Neuston comprises a collective of species living at the surface of the ocean, ranging from jellyfish-like drifters to sea snails. Neuston has been a specific focus of our research and impact assessment for some time (see our peer-reviewed publication on the relative distribution of neuston and plastic in the GPGP). Due to their small size and mostly jelly-like bodies, it is challenging to quantify primary incidental capture of neuston. Instead, we conducted almost 400 net tows around System 002 alongside our cleaning operations to more accurately investigate possible interactions with neuston. Individual neuston are manually picked from each net tow sample and analyzed; this time-consuming process is underway and we expect results to be available for the EIA for System 03. Initial findings reveal that the most common neuston taxa (observed both in front of and behind System 002) were Velella velella, Porpita porpita, Janthina janthina, Halobates spp. and Glaucus spp.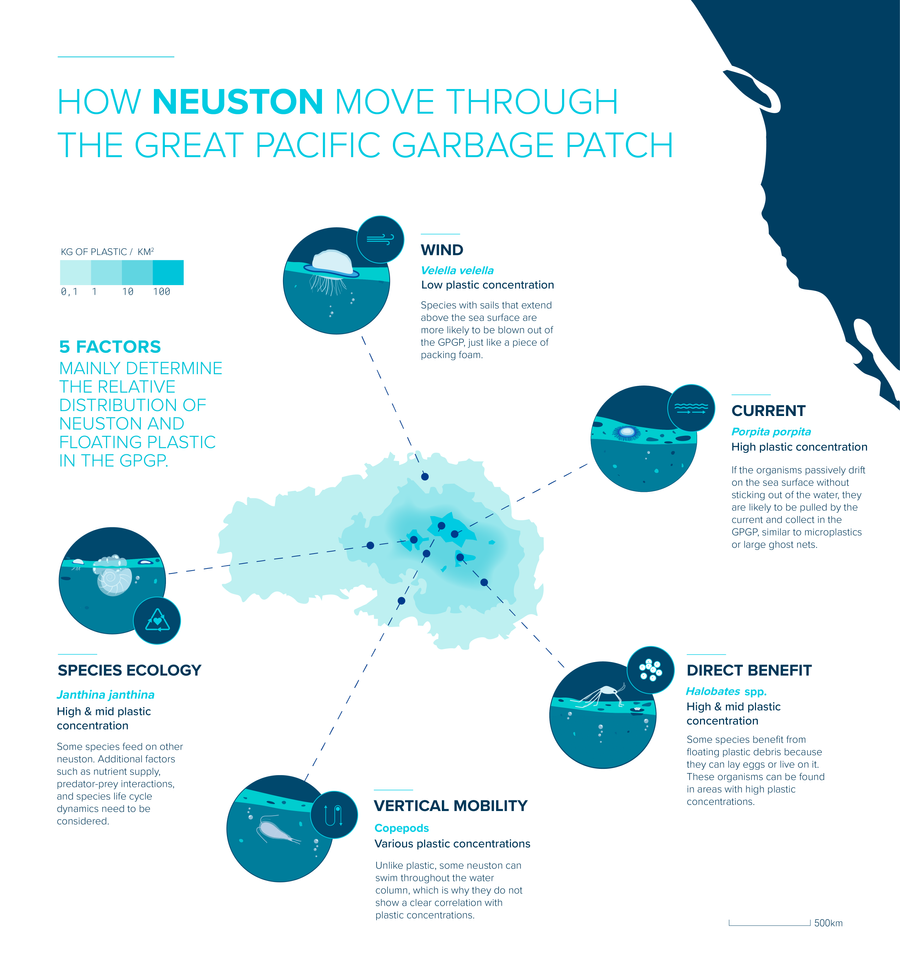 We also conducted another 244 net tows (independently from our cleaning operations) to provide background data on the seasonal dynamics of neuston and plastic accumulation in the North Pacific. These samples are currently being analyzed in our laboratory and the results will be published in an open-access peer-reviewed study.
BIODIVERSITY UNDER THREAT FROM PLASTIC POLLUTION
According to the WWF, over 2000 individual species are estimated to encounter debris in the oceans – and in most cases, that debris is plastic. Plastic pollution is a problem caused entirely by humanity, but the harmful effects extend throughout the diverse species and ecosystems in our oceans, many of them endangered or threatened by the worsening effects of plastic pollution in their habitats.
In the GPGP itself, our peer-reviewed research shows that 75-86% of plastic waste originates from the fishing industry. This fishing waste, such as 'ghost nets', is particularly harmful to marine life as animals frequently find themselves entangled and unable to escape. These objects are designed to persist for long periods in the water, meaning they can cause harm for years, if not decades.
Ingestion of plastic can be fatal for animals in the GPGP. As food is scarce in this part of the ocean, animals often mistake microplastics or other small plastic objects for food, ingesting the plastics and causing the animals to become malnourished (among other harmful effects). As mentioned above, 100% of sea turtle necropsies conducted by our onboard PSOs in the GPGP revealed plastic ingestion.
This damage is worsening as plastic objects persist in the GPGP for decades and break down into smaller particles, continuing to cause harm to marine life and almost impossible to clean. Our efforts to clean the GPGP, with dedicated focus on maximizing our net benefit to its wildlife, aims to protect this environment from further damage caused by plastic pollution.
CONCLUSIONS AND NEXT STEPS
Our initial data on System 002's prevention and mitigation measures is encouraging and shows that we are capable of operating in a responsible and precautionary way that avoids significant disruption to marine life while providing the long-term benefit of removing harmful plastic pollution from the ecosystem.
However, we are not relaxing our efforts. Rather, we are using this data not only to make our mitigation measures better, but also to expand our knowledge of the GPGP and the species that live and migrate in that area and how they are impacted by plastic pollution. The data we gather during our cleaning can also help formulate strategies and responses to pressing environmental challenges, including in the context of the recently-agreed High Seas Treaty and the potentially groundbreaking United Nations Global Plastics Treaty.
We hope that our pioneering EIAs and EMPs conducted under the Covenant with the state of the Netherlands, combined with the data and knowledge we acquire will not only make us safer and more efficient in our operations but will also be shared with governments and other authorities and organizations, to contribute to global efforts to fight ocean plastic pollution and protect the high seas at all levels. We aim to set the standard for other mitigation efforts on the high seas, in areas beyond national jurisdiction.
The North Pacific is a harsh, remote, challenging and expensive place to conduct research – meaning it has received relatively less research attention than other, more accessible locations. The more data we can gather on the local marine life, its habits, and how these animals interact with plastic pollution and our system, the better we can design our mitigation measures to more effectively ensure their safety.
System 002 recently reached the milestone of over 200,000 kg of plastic removed from the GPGP (see footage of the extraction here). This achievement took place on trip 13, our first cleaning deployment of 2023. The more we clean, the more we learn, with positive implications for both our cleaning efficiency and our environmental protection measures.
We will continue to provide further and expanded detail on our environmental performance as we progress, always aiming to achieve the maximum net benefit for the marine environment as we aim to rid the oceans of plastic for good.