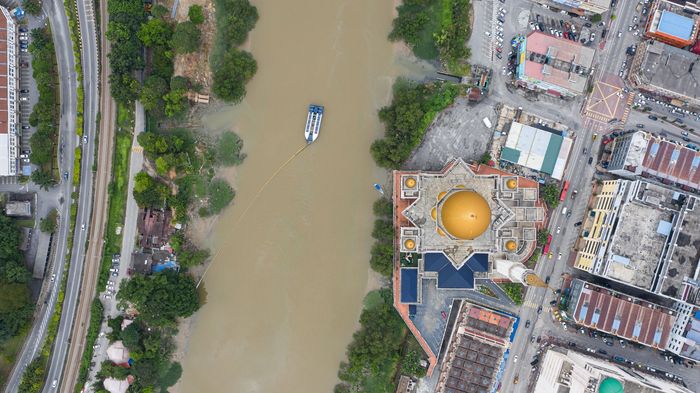 The Ocean Cleanup opens regional office in Kuala Lumpur, Malaysia
Back to updates
FOLLOWS SERIES OF INTERCEPTOR™ DEPLOYMENTS IN RIVERS THROUGHOUT ASIA

STRATEGIC LOCATION HELPS THE OCEAN CLEANUP INCREASE IMPACT IN BATTLE AGAINST OCEAN PLASTIC POLLUTION IN MALAYSIA AND NEIGHBORING COUNTRIES

REGIONAL BASE STRENGTHENS EFFORTS TO TACKLE PLASTIC EMISSIONS INTO THE OCEANS THROUGH INTERCEPTION, MONITORING, AND LOCAL COLLABORATION
[Rotterdam/Kuala Lumpur, April 3, 2023] — The Ocean Cleanup, the international non-profit project with the mission of ridding the oceans of plastic, has announced the opening of its first regional office, in the Malaysian capital Kuala Lumpur.
The Ocean Cleanup Asia Regional Office will formally open in April. It comes in the wake of several successful river deployments – Interceptor 002 and Interceptor 005 in Malaysia, Interceptor 001 in Indonesia, and Interceptor 003 in Vietnam – in recent years. With Interceptor deployments currently operating or planned (such as Interceptor 019 in Thailand), in rivers throughout the continent, The Ocean Cleanup Asia Regional Office will serve as a platform for the organization's Interceptor program in Southeast Asia.
Kuala Lumpur's strategic location will allow The Ocean Cleanup to intensify its impact and increase its collaboration with local and national governments, authorities, and policymakers – with the aim of halting plastic emissions into the ocean and bringing the organization closer to completing its mission.
"Malaysia's strategic location is instrumental to achieving our regional mission," said Steven Paalman, Regional Director Asia at The Ocean Cleanup. "It will bring The Ocean Cleanup closer to our partners and policymakers in various focus countries, each aiming to realize their ambitions in the coming years."
Kuala Lumpur
Crew
Want to join our recently opened office in Kuala Lumpur, Malaysia?
See the job openings and apply via Nomilk2day.