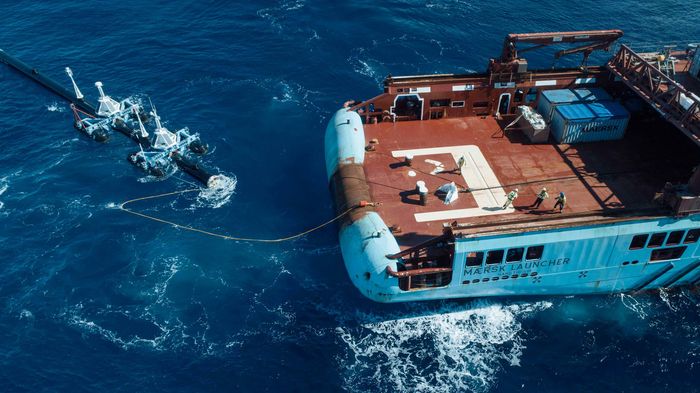 Cleanup Commences: System 001 Has Arrived
On October 3rd, System 001 embarked on its final leg of the journey to the Great Pacific Garbage Patch. We are happy to announce that it has reached its intended location and has been deployed into operational configuration; the cleanup has officially begun.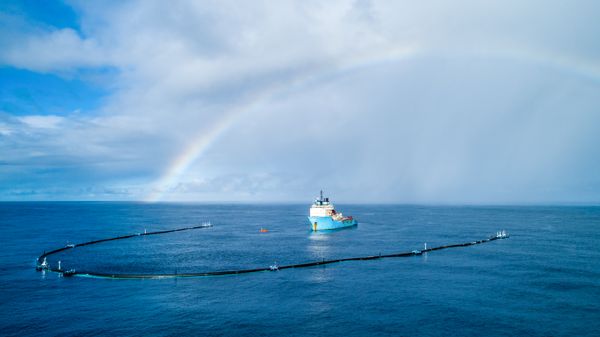 The Pacific Trials provided us with our last chance to test the system before we took it all the way to the patch. It was the first time we ever configured the system in its U-shape and the first time we were able to observe the entire 600-meter system in action.
After 14 days of trial, we concluded that System 001 was ready to brave the notorious Great Pacific Garbage Patch. The crew arranged the system back into the towing formation and made way to the heart of the patch, approximately 850 nautical miles from the location of the trial. On October 16th, after several days of unfavorable weather, we arrived in the patch; within the same day, System 001 was deployed back into its U-shape and finally in its intended location.
Happening now: We have arrived at the deployment location in the heart of the Great Pacific Garbage Patch, and the crew is putting the system into its designated U-shape. The operation is going smoothly. More updates to come. pic.twitter.com/pHVFu1fgam

— The Ocean Cleanup (@TheOceanCleanup) October 16, 2018
Before we set out for the Pacific Trials, we identified three objectives that we believe will prove our technology. They are:
Cleanup system behavior: is it propelled by wind and waves, does it rotate fast enough, can it maintain its u-shape
Interaction between plastic and the cleanup system: does it efficiently collect and retain plastic
Survivability of the cleanup system: can the system endure harsh weather and the corrosive environment of the ocean
The first objective has been cleared through the Pacific Trials; the last two can only be confirmed in the Great Pacific Garbage Patch, so we expect the remainder of 2018 to reveal a lot to us about System 001. Stay tuned for more details as we continue to monitor the system and prepare to bring plastic back to shore.