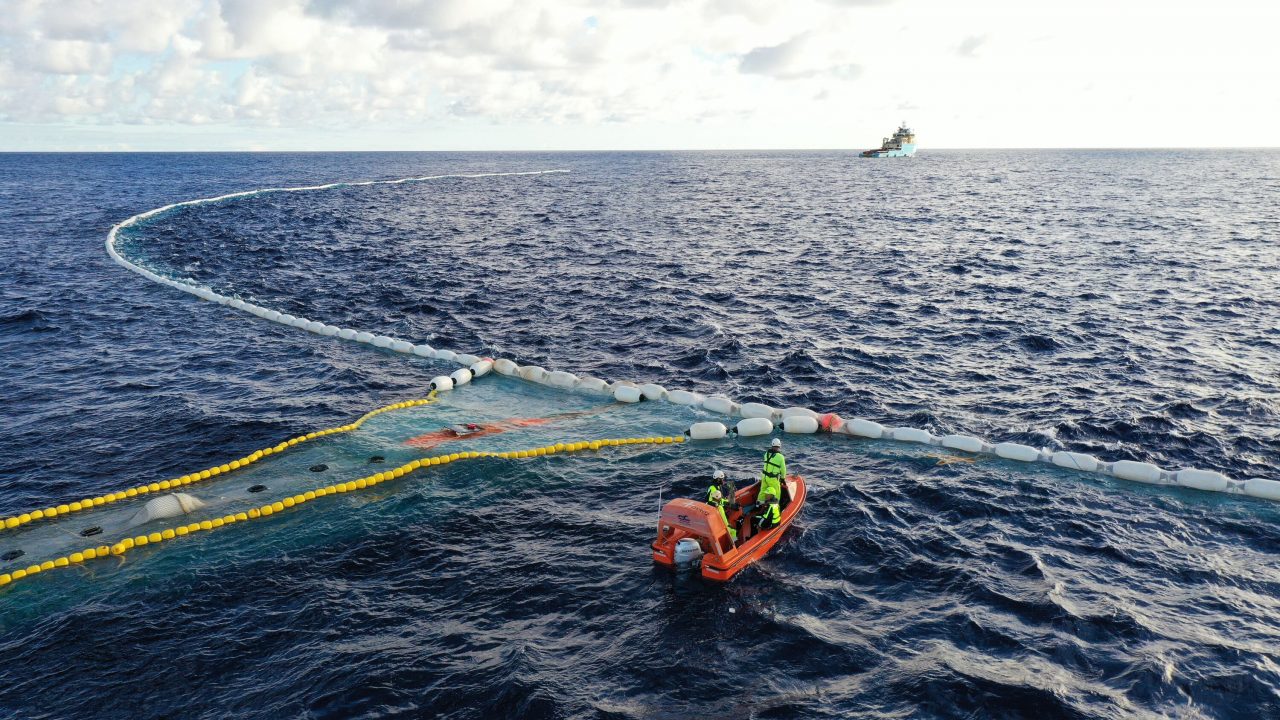 Following System 001/B's return to shore, the team further adapted the design of our ocean cleanup technology. The end result: System 002, aka Jenny. At the end of July 2021, we returned to the Great Pacific Garbage Patch (GPGP) to test this latest iteration. Based on cumulative insights from System 001 and System 001/B, this latest experimental cleanup platform is both large-scale (800 meters in length) and operational. The aim of this design is to catch plastic more efficiently and effectively versus previous builds, and, based on our estimations, we expect it to be more commercially viable for scale-up.
To succeed in our mission, we need a cleanup technology that not only captures plastic but whose design and operation are suited for growth into a global fleet. System 001/B (2019), achieved a relative speed difference that resulted in effective collection and retention of plastic. However, in order to achieve a goal of 90% reduction of floating ocean plastic by 2040, its parachute sea anchor design would require us to deploy hundreds of systems. To us, this is unfeasible, so we continued to advance our research and design. With a persistent problem that grows worse by the day, there is an urgency to reduce pollution as quickly as possible.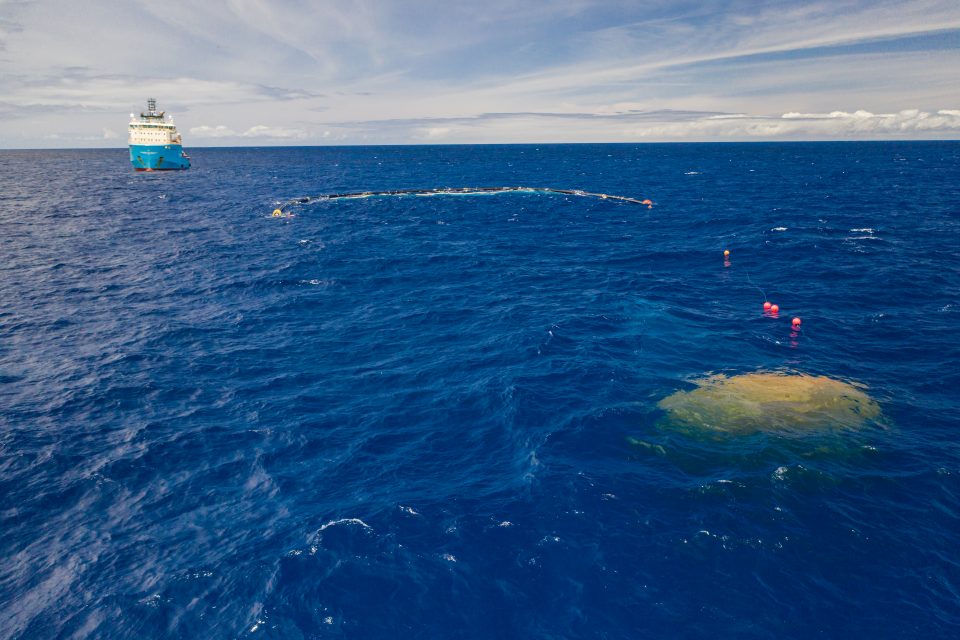 Using the learnings and data collected from the operation of System 001 and 001/B, we formulated a design for System 002. One key design improvement is the incorporation of active propulsion to move the system slightly faster than the flow of plastic in the water and maintain a continuous stable speed difference. We are also introducing the ability to steer the system, to reposition operations as needed into zones that have the highest density of plastic. Learn more about the design of System 002 on the Oceans page.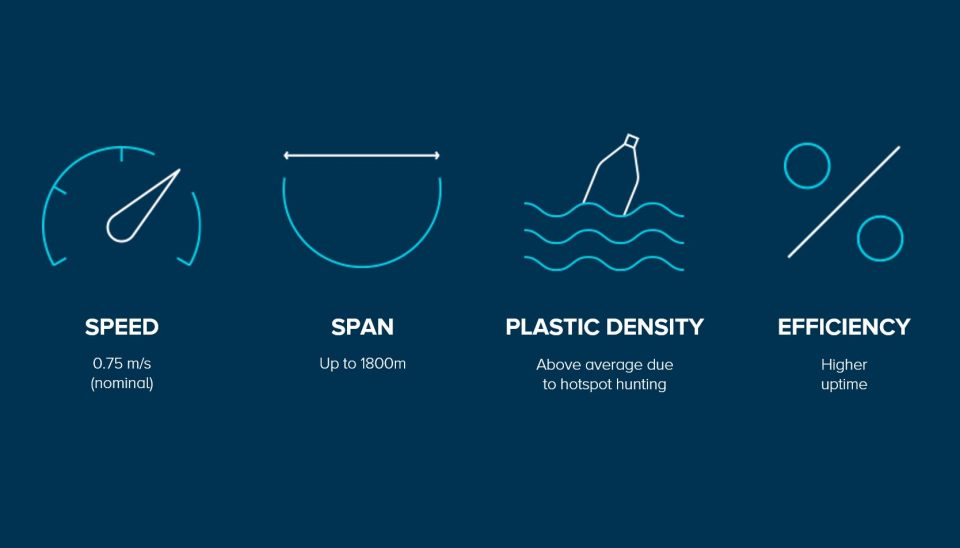 During our upcoming Pacific Ocean campaign, our goal is to validate the System 002 design. For success, we need to have limited negative environmental impact, no safety issues during operation, as well as realize a significant level of plastic extraction. If we reach these achievements, we would remain in the GPGP and continue collecting insights and harvesting more plastic. We will also use the time offshore to continue gathering data to further our knowledge of the organisms in the gyre, and improve our understanding of how The Ocean Cleanup technology could interact with sealife. We will also be able to verify the efficacy of our planned environmental mitigation measures.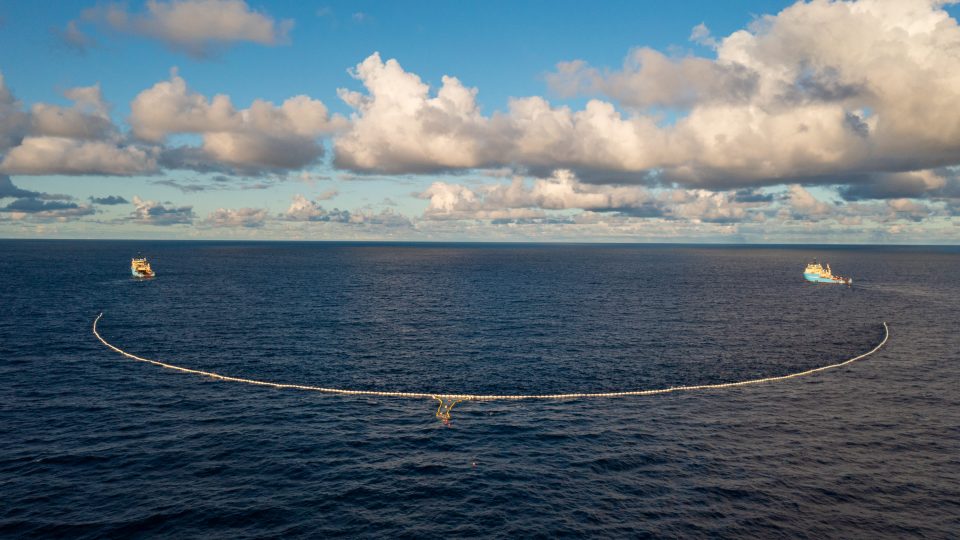 Operational testing of System 002 within the Pacific Ocean is an intermediate step. If the design and operation of System 002 prove positive, we will use insights from this offshore campaign to advance further in the Development Phase. From there would come the development of System 003, and the eventual progression to the Validation Phase. Verification of having reached the Validation Phase will only be achieved when we can confirm the design is our most effective, scalable concept.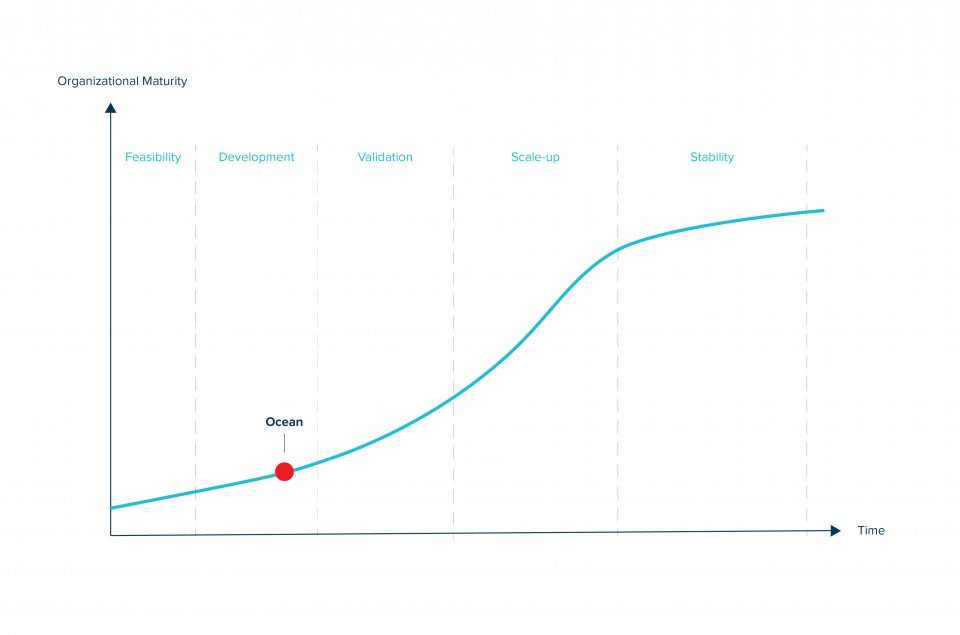 You are using an outdated browser! This map works best in modern browsers. For more information visit browsehappy.com
System 002 Test Plan
The System 002 test campaign in the Great Pacific Garbage Patch will take place over the course of 12 weeks. If the trials are successful, we have the option to remain in the patch to gather more insights and harvest more plastic.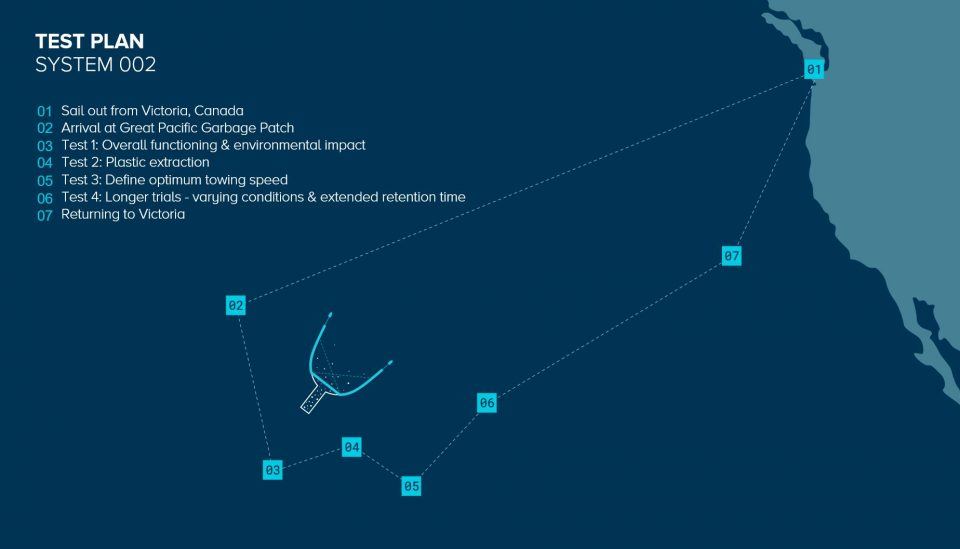 December 2020

In preparation of launching our ocean cleanup System 002, we are finally back offshore on the North Sea to test the plastic retention system with our partner Maersk.

View on Instagram

June 2021

Ocean System 002 taking off this summer.

View on Facebook

Preparations for the ocean System 002 mission continue. This week, Maersk Tender from Maersk Supply Service was in Rotterdam for mobilization - to load all the equipment and configure the deck to match the operational requirements of what will be our largest system to date.

Preparations are on track to launch System 002 in less than two months as planned.

View on Instagram

Two years ago today, we launched System 001/B into the Great Pacific Garbage Patch, and six months later, it returned with our first plastic catch.

In about 1.5 months, we will be launching our first large-scale cleanup system, System 002, in hopes of multifold impact. We just tested the retention zone (pictured), which is designed to hold plastic until it's offloaded. For reference: it is as big as a school bus.

View on Facebook

July

Meet System 002, aka Jenny. In about two weeks, we are returning to the Great Pacific Garbage Patch (GPGP) with the next iteration of our ocean cleanup design. Based on our learnings from System 001/B, we have now incorporated active propulsion into the design.

What are the main benefits of this design feature? 1) We can now steer to high-density zones to accelerate the cleanup process, 2) Boosted span, speed, and efficiency = reduced cost/kg of plastic removed, 3) Quicker time to scale up, because of simpler, readily available technology, And if it works, we expect to be able to clean an area equal to 1 football field of ocean every 15 seconds.

View on Facebook

On Monday, July 5th, 2021 we gave a detailed update on the design of our next ocean cleanup system, System 002 at the annual IMarEST (Institute of Marine Engineering, Science & Technology) conference.

View on Youtube

"The whole choice of now shifting to adding propulsion was driven just by rationally looking at numbers. (…) Ultimately, what matters is the impact." - Boyan Slat.

Bruno, Lead Computational Modeler, Arjen, Technology Manager, and Boyan, Founder and CEO, give a brief summary of their presentation on the design of our next ocean cleanup system, System 002.

View on Facebook

We work through iterative processes and learn by doing. With System 002, we aim to increase our impact and scalability.

View on Twitter

Soon we will set sail for the Great Pacific Garbage Patch with Jenny.

With the System 002 campaign, we aim to move towards a blueprint design for scale-up, so our focus will be to monitor the environmental impact and test different configurations for optimal cleanup performance.

View on Twitter

The Great Pacific Garbage Patch is a vast expanse of marine debris, but, it's not just plastic waste that makes up this area of the ocean: many ecosystems exist within and around these waters.

To respectfully operate in these conditions, it's vital to understand any impact of our intervention.The purpose of our Environmental team is to monitor this impact prior, during, and after our cleanup efforts.

View on Youtube

Our crew is working on the last preparations before going out to the Great Pacific Garbage Patch with Jenny, our largest system to date, by the end of this week.

View on Instagram

Prior to System 002's launch we sat down with Head of Technology, Arjen Tjallema and Senior Project Engineer, Reijnder de Feijter to discuss the preparations behind this new system and our expectations for it as we return to this infamous gyre in the Pacific Ocean.

Listen to podcast

System 002, Jenny, has sailed off towards the Great Pacific Garbage Patch. Best of luck, Jenny, we look forward to seeing you back with the next plastic catch.

View on Twitter

August

Jenny and crew have arrived in the Great Pacific Garbage Patch (145° 52' 8.5''W, 34° 50' 6.4''N to be exact).

We will now start installing System002. Weather depending, the deployment operations will last 2 to 3 days. Here are a few words from the captain:

View on Facebook

The Great Pacific Garbage Patch never sleeps: right after arrival at our waypoint in the patch, the crew started preparations for the first test deployment of System 002.

View on Instagram

Our first large-scale system (800m length), Jenny, has been deployed in the Great Pacific Garbage Patch for the first time. This was the first of more than 70 tests planned for the next 6 weeks.

View on Twitter

Update from offshore: Jenny already caught its first plastic in just two hours of test deployment. This doesn't yet prove that the system is successful, but it is a good sign.

The only setback we have encountered so far is the camera skiff (that monitors our catch) disconnecting from the system. Once it's reattached, we will proceed with further tests.

View on Twitter

It's been a week since Jenny and the crew reached the Great Pacific Garbage Patch. In this short period of time, the crew had already experienced some ups and downs. This is a brief report from offshore on what's been happening so far.

View on Youtube

Quick update from the Great Pacific Garbage Patch. Camera skiff has been repaired and system has been redeployed.

Hear it from our crew member Dave Cox, while he takes a closer look at the system during an inspection on August 18th.

View on Facebook

Catch of the day. Challenges keep the System 002 offshore crew busy but we're seeing promising progress from the latest test run. Full mission report later this week.

View on Facebook

Three weeks into the System 002 mission and the offshore crew remains busy out in the Pacific Ocean. After conducting some troubleshooting in the first two weeks for the cam skiff, the team completed the most successful trial campaign of this mission. This was the longest deployment period for System 002, including nighttime operations, which has resulted in a more sizeable plastic catch than other tests.

While this looks promising, it is still too early in the test campaign to draw conclusions on performance. While the data is being analyzed, we will move ahead to find the optimal configurations for this new system.

View on Youtube

In The Ocean Cleanup's first podcast recorded from the Great Pacific Garbage Patch, two senior project engineers on board the Maersk Trader, Fedde Poppenk and Fraser Keil, give us a glimpse into the initial days, challenges, and successes of the System 002, aka Jenny, mission.

When offshore, you fail fast and learn fast, but the insights from this trip set the stage for the future of the campaign and the cleanup itself.

Listen to podcast

"We're almost halfway the test campaign of System 002 "Jenny" and things are looking very promising. We'll leave the patch tomorrow for a crew change, then continue with longer-duration tests throughout the rest of the month."

View on Facebook

September

It's a wrap for the 1st test trip of System 002

- We're halfway through the test program - System 002 was operational in the water for approx 120h - About 8.2 mT of trash harvested Vessels now on their way back for crew change. Longer-duration test runs planned for trip 2.

View on Twitter

Halfway through the test campaign, Jenny (System 002) seems to perform well, and the plastic harvest looks promising. There's more testing to come during trip 2. Hear more from Boyan in this quick update:

View on Facebook

Here's some trash Jenny picked up in the Great Pacific Garbage Patch during test trip 1. How many items in this photo can you recognize?

View on Instagram

System 002 mission continues. After a short stop in Victoria for a crew change, the vessels are back on their way to the Great Pacific Garbage Patch.

The next weeks will be crucial in demonstrating the impact the System 002 technology can have. Good luck sailors and see you back in 6 weeks.

View on Twitter

Déjà vu: we are back in the Great Pacific Garbage Patch for the second test trip of six weeks.

This is our current location: 35°00'N, 145°40'W, where we are already deploying Jenny for the next tests.

View on Instagram

Now

Ongoing

Testing System 002 in the Great Pacific Garbage Patch.
The Ocean System
Technology
Learn more about our ocean system design and approach to cleaning up the Great Pacific Garbage Patch on our Oceans page.