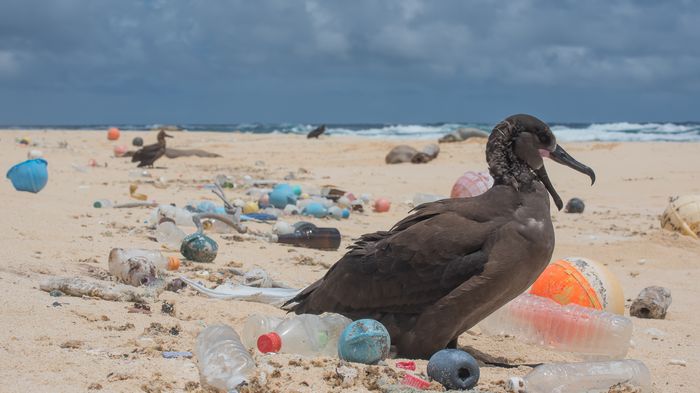 Research Shows How Plastic at Sea Turns into Toxic Fish Food
Back to updates
New study reports sea surface feeders in Great Pacific Garbage Patch encounter 180 times more plastic than marine life
Delft, The Netherlands, December 21, 2017 – Surface waters of the Great Pacific Garbage Patch contain 180 times more plastic than marine life by weight, according to an international team of scientists from The Ocean Cleanup and six universities from five countries.
The new study, published today in the journal Environmental Science and Technology, reports that plastics floating in the oceanic accumulation zones, or 'garbage patches', carry chemical pollutants whose levels seem high enough to pose a health risk to organisms that ingest them. These findings underline that the current accumulation of plastic in the Great Pacific Garbage Patch can already have multiple health impacts on sea life.
"It is alarming that this oceanic region has more harmful plastics than food available for sea surface feeders such as endangered sea turtles and marine birds." says Dr. Julia Reisser, co-author of the study and Chief Scientist of the study's expedition to the patch.
This is the first time pollutant concentrations were analyzed on ocean plastics of different types and sizes, from sand-sized microplastics to huge bundles of discarded fishing nets.
The ratio of ocean plastic to marine life weight was obtained by weighing the plastic and biological contents (such as algae, plankton, jellyfish, fish, and eggs) captured by sea surface samplers known as Manta Trawls.
Dr. Reisser explains that worldwide data on the relative amounts of plastic, when compared to food available for marine animals, is limited. "From personal experience sailing across oceans, I was surprised to witness the unique situation in this very remote area of the high seas. Our newly acquired data on plastic/prey ratios indicate that organisms feeding on floating particles may have plastic as a major component of their diet. Eating plastic is harmful, because it may leave animals with a full stomach without providing any nutritional value, which can lead to starvation. Our results now show there is an additional risk to also receive a portion of toxic chemicals from this ingested plastic."
The presence of pollutants on ocean plastics is well-known, but the environmental chemistry and toxicological hazard of these substances remain poorly understood.
"We are convinced our study is an important step towards understanding the implications of oceanic garbage patches to the health of our oceans." said lead author Dr. Qiqing Chen from East China Normal University.
The study's surveys were conducted aboard the mothership of a multi-vessel citizen science initiative known as the Mega Expedition. Laboratory analyses were conducted at Wageningen Marine Research (the Netherlands). The project was led and sponsored by Dutch foundation The Ocean Cleanup.
[Header image © Matthew Chauvin]
###
Note for the editors, not for publication.
PRESS CONTACT 
CFF Communications
Claire Verhagen / Jan van Ewijk
press@theoceancleanup.com
T: +31(0)20 575 40 10
Photos and video footage supplementing this press release can be downloaded from theoceancleanup.com/media-gallery/
Institutions involved in this study:
Stichting The Ocean Cleanup
RWTH Aachen University (Germany)
East China Normal University (China)
Wageningen University & Research (The Netherlands)
Universidade Federal do Rio Grande (Brazil)
Tongji University (China)
About The Ocean Cleanup
The Ocean Cleanup develops advanced technologies to rid the world's oceans of plastic.
Founded in 2013 by then 18-year-old Boyan Slat, The Ocean Cleanup now employs approximately 75 engineers and researchers. The foundation is headquartered in Delft, The Netherlands.
Instead of going after plastic debris with vessels and nets – which would take many thousands of years and billions of dollars to complete – The Ocean Cleanup is designing a network of extremely long floating screens that will remain in the water to act like an artificial coastline, enabling the ocean to concentrate the plastic using its own currents.
In preparation for full-scale deployment, The Ocean Cleanup organized several expeditions to map the plastic pollution problem in the Great Pacific Garbage Patch with unprecedented detail. Meanwhile, the team has advanced its design through a series of rapid iteration scaling-up tests. After years of reconnaissance research, scale model testing and the deployment of prototypes on the North Sea, the first full-scale cleanup system is currently in production. It is set to be deployed in the Great Pacific Garbage Patch by mid-2018.