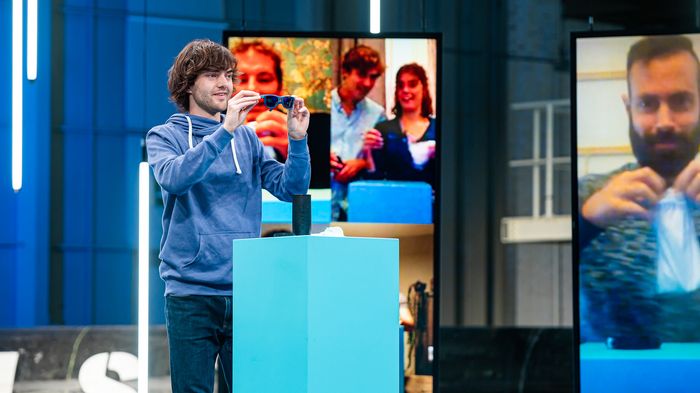 Today, we launched the first product made with plastic certified from the Great Pacific Garbage Patch: The Ocean Cleanup sunglasses. We also presented how we can go full circle in our mission by creating a product with our plastic catch to fund the continuation of the cleanup.
An important element of our mission has always been what we will do with the trash we remove from the ocean. In tonight's presentation, Boyan shared how we can use the recovered plastic to help fund our mission and what we were able to make with it using the catch from our System 001/B campaign in 2019. We chose to make timeless sunglasses as our first product because they are durable, useful, and, since we're dependent on word-of-mouth to spread our mission, we hope that by making something that is often carried around, they can also help create awareness.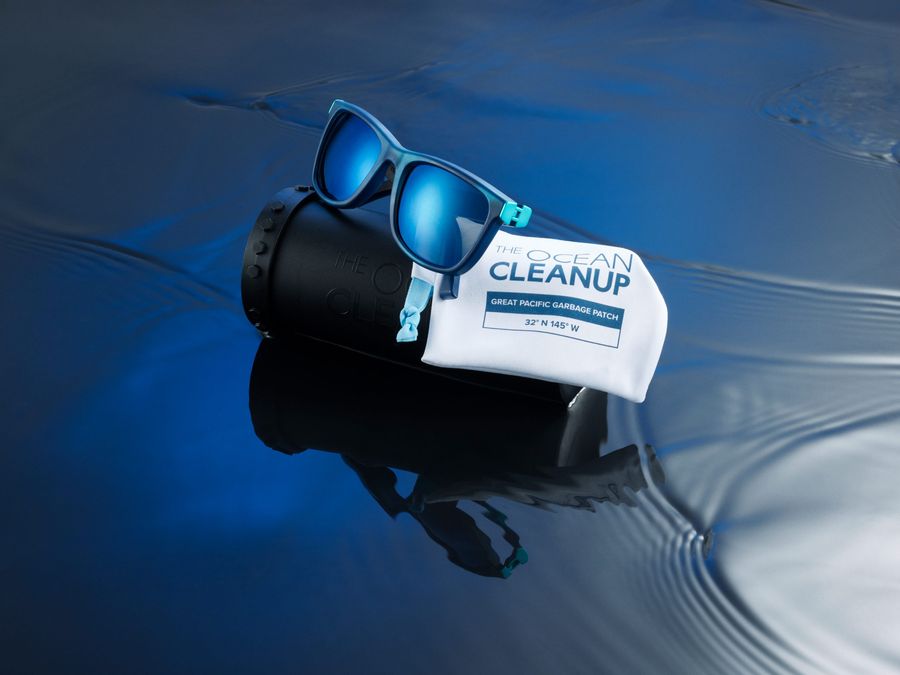 TURNING TRASH INTO TREASURE TO CLEAN UP MORE TRASH
We've managed to do something pretty special with these sunglasses: they are a the first-ever product to be made with plastic certified from the Great Pacific Garbage Patch. And, through a contribution of €/$199, supporters can own a pair of these sunglasses and help us maximize our cleanup impact. This is a direct impact too – as a non-profit, 100% of the proceeds will help fund next year's cleanup operations. We estimate that the proceeds from just one pair of sunglasses will allow us to clean an area of 24 football fields worth of the Great Pacific Garbage Patch. When every pair is claimed from this first batch of sunglasses, we can then clean 500,000 football fields worth of plastic. That means we can use this trash to clean more trash: going full circle, over and over, until we have achieved our mission of clean oceans.
DESIGNED IN CALIFORNIA BY YVES BEHAR, MADE IN ITALY BY SAFILO
When making a product, we wanted to give value to this discarded plastic by turning it into something you never want to lose. We started by tracking and auditing the plastic the moment it left the ocean. By following the process laid out in the public standard developed by DNV GL, the plastic in the frames can be traced all the way back to the Great Pacific Garbage Patch and you can be assured that the plastic in your sunglasses is that same plastic we removed from the patch in 2019. Through an independent laboratory, we also conducted extensive tests to ensure that the material is safe to use for sunglasses.
Then, together with renowned designer Yves Béhar, and Safilo, one of the leading companies in the eyewear industry, we worked to create sunglasses that you will want to use for the rest of your life (or a very long time). We wanted the look and feel of the sunglasses to be evocative of the ocean – reminding us where they came from and what they are protecting.
So, what can you expect from a pair of The Ocean Cleanup sunglasses? Here's a quick rundown:
The frame is made with plastic we collected from the Great Pacific Garbage Patch.
The lenses are polarized with full UV protection.
A QR code inside the frames lets you link your sunglasses to you and show others the impact you have made with your contribution.
A special hinge design makes for easy disassembly, so, should you ever need to retire them, they can be recycled by material type.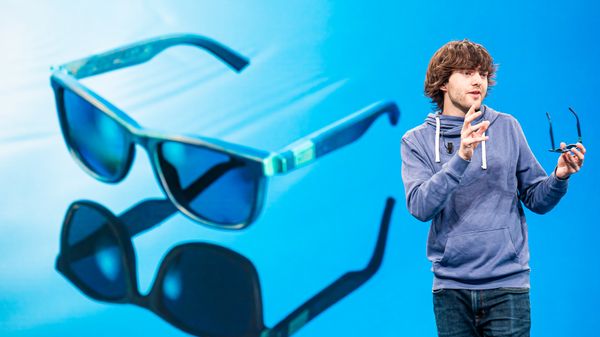 TURNING A PROBLEM INTO A SOLUTION
We've used (and recycled) plastic for more than just the frames: the sunglasses' case is made from the HDPE floater of System 001 (or as you may know it, Wilson), our first ocean cleanup system, and the carrying pouch is made from recycled PET bottles. Just like the sunglasses, we hope the case and pouch will be treasured as something special, and therefore, less likely to end up in our ecosystems.
Plastic pollution in the world's oceans is one of the biggest environmental issues of our time. By transforming used plastic into something with value, we can turn this global problem into a shared solution – a solution that can be an example of how plastic can be used and, when used responsibly, how it can be a great material.
To learn more about the sunglasses, click this button. Please note, we are out of stock as of February 21st, 2022.