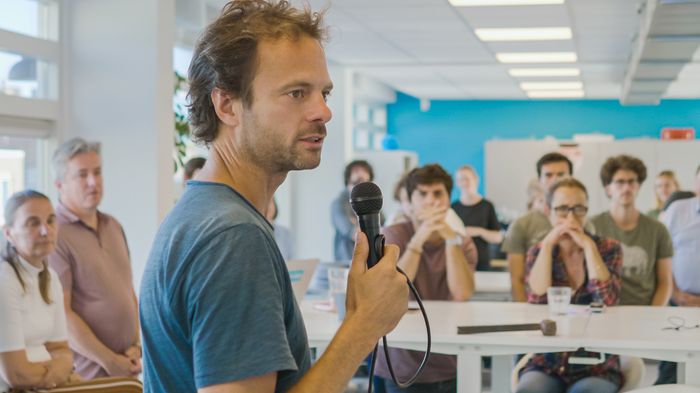 The Ocean Cleanup Names Chris Worp Managing Director – Joins Management Team
Following the swift growth of the organization and the expanded scope of responsibilities, we have decided to strengthen the Management Team. As from today, Chris Worp, who has been with the organization as Business Director Extraction since February this year, will be assuming day-to-day management of the 85-person team as Managing Director. In this position, he will work closely with founder and CEO Boyan Slat, who will continue to focus his role to the overall strategy and the development of our technology. Chris will join Lonneke Holierhoek, Jos Huijbregts and Boyan in the Management Team of The Ocean Cleanup.
In the coming year, the organization is expected to move from developing, building, and testing the first ocean cleanup system, towards preparing for global scale-up. In the newly formed role as Managing Director, Chris will oversee the organization through the process of building structure for the future and manage this exciting transition period for The Ocean Cleanup.
When joining The Ocean Cleanup, Chris brought with him a commendable career that included several advisory roles, executive and leadership positions with Philips (2004-2015), and the role of CEO of the business group 'Home' at Signify, after the spin-off of Philips's lighting division in 2015.
"Chris brings essential management and organizational development experience from his previous roles to The Ocean Cleanup. With his impressive track record in leadership, I feel confident delegating the daily management to him," says Boyan Slat. "Chris will make an important contribution to furthering our team to deal with the opportunities and challenges that we will face in the not-too-distant future."
About Chris Worp
Chris has a background in business management and -leadership and holds a master's degree in General Management from Nyenrode Business University (1997). His track record illustrates his capability to successfully build and manage teams through phases of growth. He is an avid diver and passionate about nature, which brought him – after a successful corporate career – to The Ocean Cleanup, where he found this excellent opportunity to apply his professional qualities to drive his environmental ambitions.