FAQ
What are microplastics, and macroplastics and why may they be harmful?
Microplastics are plastic objects smaller than 5 millimeters in size. They can consist of plastic fragments, flakes, fibers, or pre-production pellets (also known as nurdles). We differentiate between primary microplastics, which are plastic pieces produced in that size (nurdles, cosmetic microbeads, etc.), and secondary microplastics, which come from the degradation of larger objects (found in the form of fragments, fibers, paint flakes, etc.).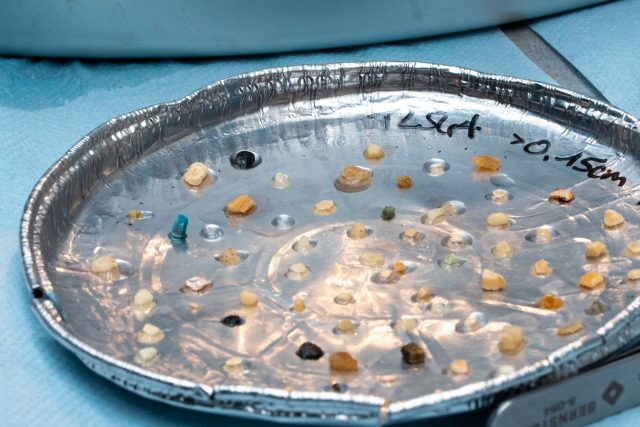 Examples of secondary microplastics; plastic fragments stemming from larger objects
Macroplastics are typically categorized as anything larger than 5 millimeters. However, at The Ocean Cleanup, we differentiate between mesoplastics (0.5 – 5 cm), macroplastics (5 – 50 cm), and megaplastics (>50 cm). This is to reflect the wide variation of sizes in plastic pollution. As larger objects left in the environment may slowly break down into smaller pieces, monitoring and documenting the full-size spectrum of plastic pollution and its evolution over time is essential.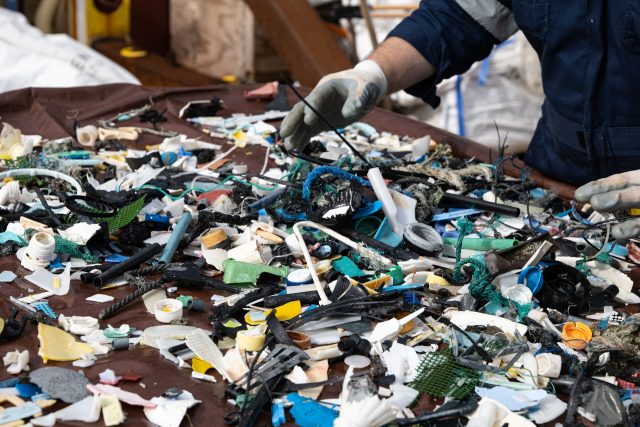 Macroplastics being sorted on board the support vessel of System 002, in January 2022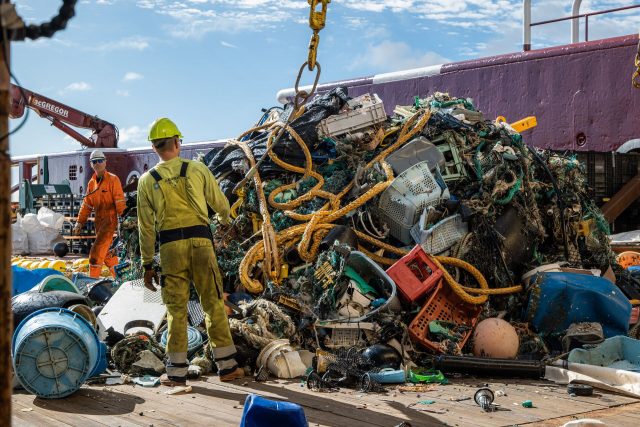 Example of megaplastic pieces caught during the System 002 mission
Of all the size classes, microplastic accumulation poses the greatest risk of harming the environment. Because of their small size, their bioavailability increases, meaning they can potentially impact many more species than larger objects. The ingestion of microplastics can result in physical damage to organisms. Concerns have also been raised surrounding the toxicity of plastic ingestion, as plastic can carry possible harmful chemicals (either through absorption or leaching). Finally, as pathogens and parasite vectors have also been identified on microplastics, there is an increased risk for ecosystems. However, there is still no consensus on how damaging microplastics are to the environment, and their impact depends on the plastic size, environment, organisms, and level of exposure.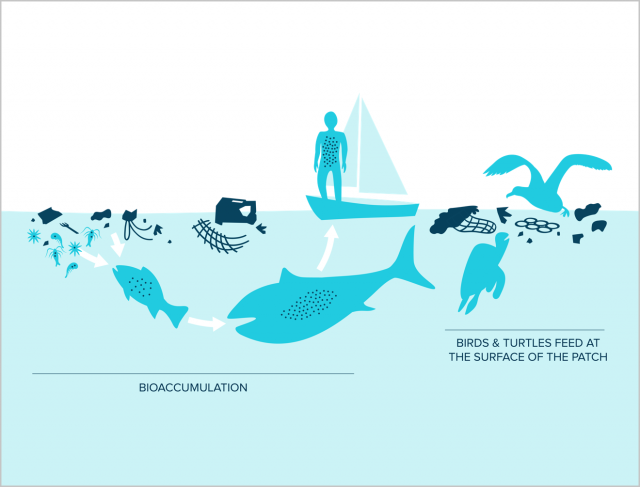 How plastic pollution travels up the food chain
Floating macroplastics also have apparent impacts on marine megafauna through ingestion or entanglement. As they degrade over time, they can generate large numbers of microplastics – and like their smaller counterparts, macroplastics can carry chemicals and invasive species. The increasing accumulation of floating plastic 'rafts' on the ocean surface provides a gateway for species to move from one continent to another like never before, representing a real risk for biodiversity due to species invasion.
Learn more about ocean plastic pollution here.