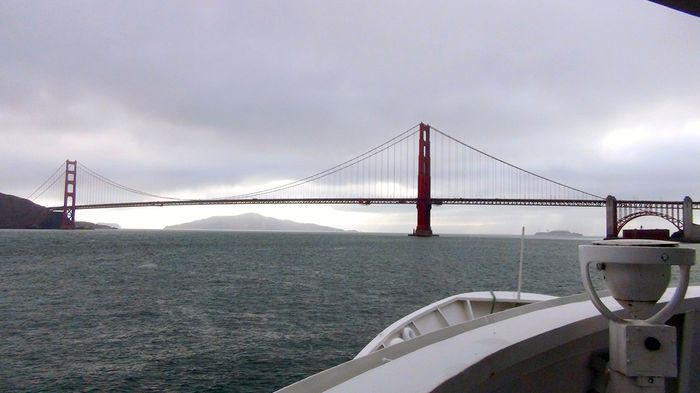 The Ocean Cleanup Prepares For 2020 Pacific Cleanup, Successfully Completes Mega Expedition Reconnaissance Mission
Back to updates
The Ocean Cleanup successfully concluded the Mega Expedition with the arrival of a first group of vessels including the fleet's 171ft mothership in the port of San Francisco today. Using a series of measurement techniques, including trawls and aerial surveys, the fleet of close to 30 vessels sampled the concentration of plastic during its month-long voyage through the Great Pacific Garbage Patch. This is in preparation for the large-scale cleanup of the area, set to begin in 2020.
The Mega Expedition's primary goal is to accurately determine how much plastic is floating in the Great Pacific Garbage Patch, by executing the largest ocean research expedition in history. This was also the first time large pieces of plastic, such as ghost nets and Japanese tsunami debris, have been quantified.
"I've studied plastic in all the world's oceans, but never seen any area as polluted as the Great Pacific Garbage Patch," said Dr. Julia Reisser, Lead Oceanographer at The Ocean Cleanup. "With every trawl we completed, thousands of miles from land, we just found lots and lots of plastic."
Although the samples collected during the expedition still have to be analyzed, preliminary findings indicate a higher-than-expected volume of large plastic objects floating in the ocean.
This underscores the urgency of The Ocean Cleanup's mission to clean it up, according to CEO and founder Boyan Slat: "The vast majority of the plastic in the garbage patch is currently locked up in large pieces of debris, but UV light is breaking it down into much more dangerous microplastics, vastly increasing the amount of microplastics over the next few decades if we don't clean it up. It really is a ticking time bomb."
During today's press conference in San Francisco harbor, Boyan announced that The Ocean Cleanup was able to conduct the Mega Expedition thanks to major financial contributions from entrepreneur-philanthropists, including Salesforce chairman, CEO and founder Marc Benioff: "Protecting the oceans should be a priority for all of Earth's citizens. The Ocean Cleanup is taking an innovative approach to preserving one of our most critical resources and raising the visibility of this global challenge."